All Word Search Puzzles
Winter

Word Search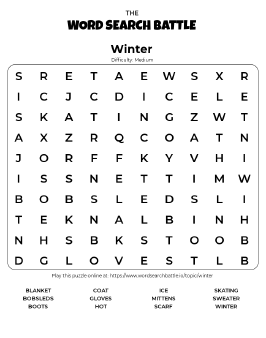 It might be getting colder outside but, with this Winter Word Search from the Word Search Battle, things might just be heating up inside. This fun challenge, which can be played online with friends or downloaded and printed to play in person, is all based around finding words related to the season of Winter from a jumble of words.
You can vary the challenge of this game and generate new puzzles with ease. All you have to do is select your difficulty and find up to 5 words in easy, 15 words in Medium, or 23 words in Hard. The puzzle is generated fresh every time, so you can switch up the challenge very easily.
With words like blanket, skating, snowman, gloves, snowballs, and more, it's super easy to play this game and get in the right mood to enjoy a winter wonderland.
Play online or download and print
Multiple difficulties to test your skills
Up to 23 words all related to winter and the festive season
Challenge friends online or play alone
Create your own avatar and username to track your best scores
Free Winter Word Search
Online Game
Enjoy our free Winter Word Search puzzle online in real-time battle with your friend, or play a classic single-player game. There are easy, medium, and hard difficulty levels for new and advanced players.
Get ready for the most festive and magical season with an online or printable Winter Word Search, testing your knowledge of all things seasonal.
Winter Word Search
Printable Puzzles
Break out your pens or pencils and get your eyes ready. Free printable Winter word search is the perfect solo activity for a rainy day for both kids and adults. All the words are hidden vertically, horizontally, or diagonally—in both directions.
Puzzle Vocabulary Words
Below you can see all possible words that the topic Winter has.
Depends on difficulty level you select in the game amount of words hidden in the puzzle will be different.
In Easy game you have to find up to 5 words, medium game can have up to 15 words and hard puzzle can have up to 23 words.
Every time you start a new game - our word search generator will pick random words to build the puzzle.
Blanket
Blizzard
Bobsleds
Boots
Chocolate
Coat
Cold
December
February
Gloves
Hot
Ice
January
Mittens
Penguin
Scarf
Skating
Skiing
Snowballs
Snowflake
Snowman
Sweater
Winter