All Word Search Puzzles
Vegetables

Word Search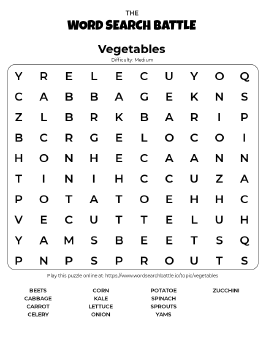 Your plate is going to be full when you find the right difficulty level to offer a challenge with this Vegetables Word Search from Word Search Battle. Enjoy your meal alone or share with a friend than to online play that tests your knowledge of the more nutritious side of making a meal.
Play online or download and print
Multiple difficulties to test your skills
Find up to 23 healthy vegetables of all kinds
Free Vegetables Word Search
Online Game
Enjoy our free Vegetables Word Search puzzle online in real-time battle with your friend, or play a classic single-player game. There are easy, medium, and hard difficulty levels for new and advanced players.
Keep your brain healthy and strong with a plateful of greens thanks to this Vegetables Word Search that sees how well you can find a range of healthy foods.
Vegetables Word Search
Printable Puzzles
Break out your pens or pencils and get your eyes ready. Free printable Vegetables word search is the perfect solo activity for a rainy day for both kids and adults. All the words are hidden vertically, horizontally, or diagonally—in both directions.
Puzzle Vocabulary Words
Below you can see all possible words that the topic Vegetables has.
Depends on difficulty level you select in the game amount of words hidden in the puzzle will be different.
In Easy game you have to find up to 5 words, medium game can have up to 15 words and hard puzzle can have up to 23 words.
Every time you start a new game - our word search generator will pick random words to build the puzzle.
Artichoke
Arugula
Asparagus
Avocado
Beans
Beets
Broccoli
Cabbage
Carrot
Celery
Corn
Cucumber
Eggplant
Garlic
Kale
Lettuce
Onion
Peas
Pepper
Potatoe
Pumpkin
Radish
Spinach
Sprouts
Squash
Tomatoe
Yams
Zucchini