All Word Search Puzzles
Valentine's Day

Word Search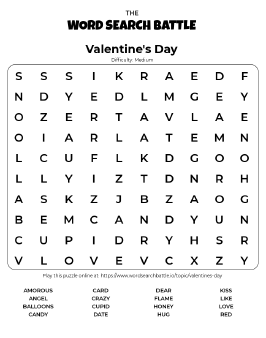 Show off your passionate and romantic side with a Valentine's Day Word Search from Word Search Battle. This word search comes in three difficulties: the Easy game with 5 words, the Medium game with 15 words, and the Hard game with 23 words. In each of them, your goal remains the same: find the lovey-dovey words associated with Valentine's Day, romance, and everything to do with courtship.
This word search puzzle has all of the unexpectedness and excitement of a good romance thanks to the fact that the words selected and the overall composition of the puzzle changes every time you play it. As such, you can play it multiple times and enjoy a different challenge every time.
You can choose to download and print the Valentine's Day Word Search puzzle, making a perfect little gift for a loved one, or play it online by inviting a friend of your choice.
Play online or download and print
Multiple difficulties to test your skills
A wide range of romantic and passionate words
Challenge friends online or play alone
Create your own avatar and username to track your best scores
Free Valentine's Day Word Search
Online Game
Enjoy our free Valentine's Day Word Search puzzle online in real-time battle with your friend, or play a classic single-player game. There are easy, medium, and hard difficulty levels for new and advanced players.
Get in the mood for romance with this Valentine's Day Word Search, testing your ability to find all words all based around the holiday of love.
Valentine's Day Word Search
Printable Puzzles
Break out your pens or pencils and get your eyes ready. Free printable Valentine's Day word search is the perfect solo activity for a rainy day for both kids and adults. All the words are hidden vertically, horizontally, or diagonally—in both directions.
Puzzle Vocabulary Words
Below you can see all possible words that the topic Valentine's Day has.
Depends on difficulty level you select in the game amount of words hidden in the puzzle will be different.
In Easy game you have to find up to 5 words, medium game can have up to 15 words and hard puzzle can have up to 23 words.
Every time you start a new game - our word search generator will pick random words to build the puzzle.
Admirer
Adore
Affection
Amorous
Angel
Balloons
Bouquet
Candy
Card
Carnation
Charmed
Cherish
Cherub
Chocolate
Courting
Courtship
Crazy
Crush
Cupid
Darling
Date
Dear
Decorate
Desire
Devotion
Doves
Embrace
Envelope
February
Flame
Flirt
Flowers
Fondness
Friend
Gift
Heart
Holiday
Honey
Hug
Kiss
Like
Love
Pink
Poem
Red
Romance
Sweets
Tenderness
Valentine