All Word Search Puzzles
US States

Word Search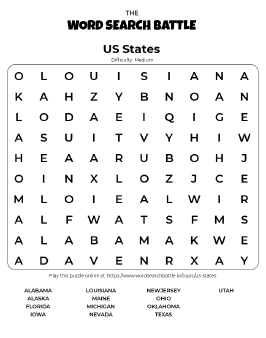 From coast to coast and border to border, your knowledge of the United States of America is going to be put to the test with this US States Word Search. Designed by Word Search Battle, your brain is going to be pitted against a randomizing jumble of letters that sees how well you know your US states.
Play online or download and print
Multiple difficulties to test your skills
Find up to 23 of the states from Alabama to Wyoming
Free US States Word Search
Online Game
Enjoy our free US States Word Search puzzle online in real-time battle with your friend, or play a classic single-player game. There are easy, medium, and hard difficulty levels for new and advanced players.
Explore every corner of the country with this US States Word Search that tests your knowledge by seeing how well you can find them in a randomized puzzle.
US States Word Search
Printable Puzzles
Break out your pens or pencils and get your eyes ready. Free printable US States word search is the perfect solo activity for a rainy day for both kids and adults. All the words are hidden vertically, horizontally, or diagonally—in both directions.
Puzzle Vocabulary Words
Below you can see all possible words that the topic US States has.
Depends on difficulty level you select in the game amount of words hidden in the puzzle will be different.
In Easy game you have to find up to 5 words, medium game can have up to 15 words and hard puzzle can have up to 23 words.
Every time you start a new game - our word search generator will pick random words to build the puzzle.
Alabama
Alaska
Arizona
Arkansas
California
Colorado
Connecticut
Delaware
Florida
Georgia
Hawaii
Idaho
Illinois
Indiana
Iowa
Kansas
Kentucky
Louisiana
Maine
Maryland
Massachusetts
Michigan
Minnesota
Mississippi
Missouri
Montana
Nebraska
Nevada
New Hampshire
New Jersey
New Mexico
Newyork
North Carolina
Northdakota
Ohio
Oklahoma
Oregon
Pennsylvania
Rhodeislend
South Carolina
South Dacota
Tennessee
Texas
Utah
Vermont
Virginia
Washington
West Virginia
Wisconsin
Wyoming