All Word Search Puzzles
Thanksgiving

Word Search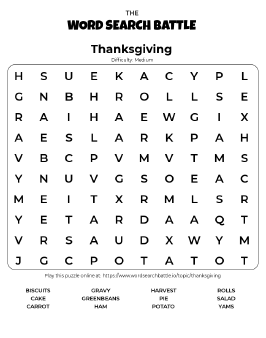 Stuff your turkey, roast up your potatoes, and chop up your vegetables; it's time for thanksgiving. This special time of year gives you a great chance to spend time with those you care about, but you need some activities to bring the group together. This is where our Thanksgiving Word Search comes in. Packed with words revolving around this time of year, this Word Search is sure to get you in the mood for celebration.
With three difficulty levels to choose from, these puzzles are great for the whole family. You can compete against one another using our easy game tag system, or choose to play on your own if you'd like to challenge the computer. You can also set unique names, choose an avatar, and pick from a wide variety of topics for your next puzzle.
Multiplayer and singleplayer modes available
Three difficulty levels to choose from
Countless topics to challenge your mind
Great for kids and adults
Free Thanksgiving Word Search
Online Game
Enjoy our free Thanksgiving Word Search puzzle online in real-time battle with your friend, or play a classic single-player game. There are easy, medium, and hard difficulty levels for new and advanced players.
This Thanksgiving Word Search has been specially designed to reflect the mood of this joyous time of year.
Thanksgiving Word Search
Printable Puzzles
Break out your pens or pencils and get your eyes ready. Free printable Thanksgiving word search is the perfect solo activity for a rainy day for both kids and adults. All the words are hidden vertically, horizontally, or diagonally—in both directions.
Puzzle Vocabulary Words
Below you can see all possible words that the topic Thanksgiving has.
Depends on difficulty level you select in the game amount of words hidden in the puzzle will be different.
In Easy game you have to find up to 5 words, medium game can have up to 15 words and hard puzzle can have up to 23 words.
Every time you start a new game - our word search generator will pick random words to build the puzzle.
Apple
Biscuits
Bread
Cake
Carrot
Cornucopia
Cranberry
Dinner
Gravy
Green Beans
Ham
Harvest
Pie
Potato
Pudding
Pumpkin
Rolls
Salad
Squash
Stuffing
Turkey
Vegetable
Yams