All Word Search Puzzles
Superheroes

Word Search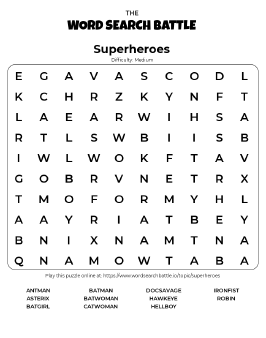 Whether you're a fan of Marvel, DC, or some other superhero family, you're going to love the challenge that comes with this Superheroes Word Search from Word Search Battle. Select the difficulty that suits your abilities and find some of your favorite super-powered saviors from the mix of randomized letters.
Play online or download and print
Multiple difficulties to test your skills
Find up to 23 of the most popular superheroes and super teams
Free Superheroes Word Search
Online Game
Enjoy our free Superheroes Word Search puzzle online in real-time battle with your friend, or play a classic single-player game. There are easy, medium, and hard difficulty levels for new and advanced players.
You don't need superhuman intelligence to beat this Superheroes Word Search, but you're going to need a keen eye and a love of all things super to succeed.
Superheroes Word Search
Printable Puzzles
Break out your pens or pencils and get your eyes ready. Free printable Superheroes word search is the perfect solo activity for a rainy day for both kids and adults. All the words are hidden vertically, horizontally, or diagonally—in both directions.
Puzzle Vocabulary Words
Below you can see all possible words that the topic Superheroes has.
Depends on difficulty level you select in the game amount of words hidden in the puzzle will be different.
In Easy game you have to find up to 5 words, medium game can have up to 15 words and hard puzzle can have up to 23 words.
Every time you start a new game - our word search generator will pick random words to build the puzzle.
Ant Man
Aquaman
Asterix
Batgirl
Batman
Batwoman
Black Canary
Black Panther
Captain America
Captain Marvel
Catwoman
Daredevil
Doc Savage
Doctor Strange
Elektra
Fantastic Four
Ghost Rider
Green Arrow
Green Lantern
Hawkeye
Hellboy
Incredible Hulk
Iron Fist
Iron Man
Marvelman
Robin
Spider Man
Sub Mariner
Supergirl
Superman
The Atom
The Avengers
The Defenders
The Rocketeer
The Shadow
The Wasp
Thor