All Word Search Puzzles
Summer

Word Search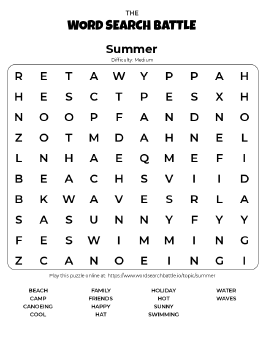 Word Searches and Summer share something in common; everyone loves them. What better way to enhance your Summertime activities than embracing this season in the form of a mind-bending puzzle? Our Summer Word Search has been specially designed to capture the essence of summer, giving you the chance to challenge your mind while building yourself up for a great season.
All of our Word Search Puzzles are handled through a dynamic system that makes it easy to play with friends and family, while also giving you the chance to make your puzzles match your skill level. This makes our puzzles great for kids and adults alike. You can also download and print each of our Word Searches for later use, giving you the chance to build your own puzzle books from games you like.
Multiplayer and singleplayer modes available
Three difficulty levels to choose from
Expansive topics to challenge your mind
Great for kids and adults
Download and print option for offline play
Free Summer Word Search
Online Game
Enjoy our free Summer Word Search puzzle online in real-time battle with your friend, or play a classic single-player game. There are easy, medium, and hard difficulty levels for new and advanced players.
The sun is shining and the birds are singing; the perfect time for a Summer Word Search. Improve your problem-solving skills.
Summer Word Search
Printable Puzzles
Break out your pens or pencils and get your eyes ready. Free printable Summer word search is the perfect solo activity for a rainy day for both kids and adults. All the words are hidden vertically, horizontally, or diagonally—in both directions.
Puzzle Vocabulary Words
Below you can see all possible words that the topic Summer has.
Depends on difficulty level you select in the game amount of words hidden in the puzzle will be different.
In Easy game you have to find up to 5 words, medium game can have up to 15 words and hard puzzle can have up to 23 words.
Every time you start a new game - our word search generator will pick random words to build the puzzle.
Beach
Camp
Canoeing
Cool
Family
Flip Flops
Flowers
Friends
Happy
Hat
Heat
Holiday
Hot
Ice Cream
Lotion
Ocean
Outdoors
Sandals
Sandcastles
Summer
Sunglasses
Sunny
Swimming
Swimsuit
Warm
Water
Waves