All Word Search Puzzles
Star Wars

Word Search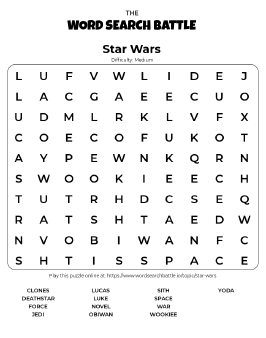 Do you know your Yoda from your Chewbacca or your lightsabre from your R2-D2? The force may be with you when you put your skills to the test in this Star Wars word search. The classic sci-fi franchise has been forever immortalized for your fun and online puzzle skills.
I find your lack of faith disturbing if you don't take us up on our offer of some brain-busting fun in our Star Wars word search and Star Wars online puzzles. Whether you use a mouse and click your way through the levels completing with friends to test your Star Wars knowledge. Prefer to test your knowledge using a lightsaber, sorry pen and paper? All you need to do is download your Star Wars puzzle, and you will find all the answers written in the death stars, we mean printed puzzle.
Playing this Star Wars word search online is fun to play (Hans) Solo or with a legion of friends; just copy the code and share it with your friends to start playing against each other. Choose your level from easy, medium, or hard, and every time you start a new game, random words are generated to really test your knowledge on all areas of Star Wars. But, we have to admit, would George Lucas be able to complete this initiation into Star Wars word searches online? We don't know but do remember, if your opponent wins, you can head back to the prequels and start all over again!
Free Star Wars Word Search
Online Game
Enjoy our free Star Wars Word Search puzzle online in real-time battle with your friend, or play a classic single-player game. There are easy, medium, and hard difficulty levels for new and advanced players.
A sci-fi classic is immortalised in this simple little word search puzzle. If like me you haven't watched the series in a long time then it should be even more fun.
Star Wars Word Search
Printable Puzzles
Break out your pens or pencils and get your eyes ready. Free printable Star Wars word search is the perfect solo activity for a rainy day for both kids and adults. All the words are hidden vertically, horizontally, or diagonally—in both directions.
Puzzle Vocabulary Words
Below you can see all possible words that the topic Star Wars has.
Depends on difficulty level you select in the game amount of words hidden in the puzzle will be different.
In Easy game you have to find up to 5 words, medium game can have up to 15 words and hard puzzle can have up to 23 words.
Every time you start a new game - our word search generator will pick random words to build the puzzle.
Anakin
Clones
Death Star
Droid
Empire
Force
Galaxy
Han Solo
Jedi
Kenobi
Legion
Leia
Lucas
Luke
Novel
Obi Wan
Sith
Skywalker
Space
Tatooine
War
Wookiee
Yoda