All Word Search Puzzles
Star Trek

Word Search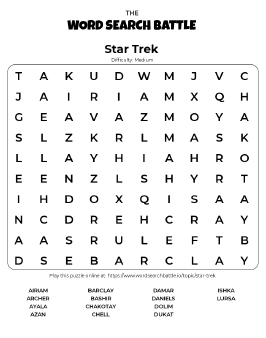 This Star Trek word search takes you back to the good old days of science fiction. You'll revisit characters from every series and learn about humanity's glorious future, traveling at warp speed between the stars. Get reacquainted with the logic of Vulcans and the honor of Klingons. But be quick - you don't have much time to find all the words before the timer runs out. Be confident like Captain Kirk or decisive like Commander Riker. Unleash your inner Data: analyze all the possibilities quickly to win.
Free Star Trek Word Search
Online Game
Enjoy our free Star Trek Word Search puzzle online in real-time battle with your friend, or play a classic single-player game. There are easy, medium, and hard difficulty levels for new and advanced players.
Star Trek word search lets you revisit your favorite sci-fi universe. But be Android-quick: the clock is ticking.
Star Trek Word Search
Printable Puzzles
Break out your pens or pencils and get your eyes ready. Free printable Star Trek word search is the perfect solo activity for a rainy day for both kids and adults. All the words are hidden vertically, horizontally, or diagonally—in both directions.
Puzzle Vocabulary Words
Below you can see all possible words that the topic Star Trek has.
Depends on difficulty level you select in the game amount of words hidden in the puzzle will be different.
In Easy game you have to find up to 5 words, medium game can have up to 15 words and hard puzzle can have up to 23 words.
Every time you start a new game - our word search generator will pick random words to build the puzzle.
Airiam
Antos
Archer
Ayala
Azan
Barclay
Bashir
Boimler
Boothby
Boyce
Brunt
Chakotay
Chekov
Chell
Damar
Daniels
Data
Degra
Dolim
Dukat
Ishka
Linus
Lursa
Soji Asha