All Word Search Puzzles
Spring

Word Search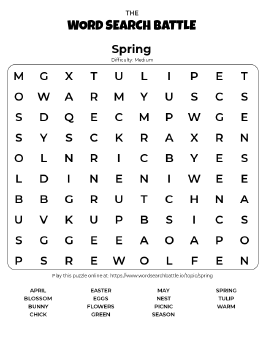 Put a spring in your step with this light and airy Spring Word Search Battle that is perfect for blowing away the cobwebs of a long cold winter and ushering in a new season with warmer weather and lots of new beginnings.
Let the sunshine shine through as you March your way into this word search that can be completed in April or at any other time of the year. This online puzzle is ideal for playing while eating Easter eggs, chasing the end of a rainbow, or hopping into the garden to enjoy the warmer climate this time of year brings
Our Spring-themed word search is available in difficulty levels, including an easy level of up to 5 words, a medium difficulty word search has up to 13 words, and the harder puzzles have up to 23 words.
So if you fancy being a social butterfly and fluttering into this spring word search with others, invite players using your game code. Or may-bee you are happier being a single chick and playing alone. You can even download these printable online puzzles to take with you for a spring picnic outside.
If you are ready to embrace the sunshine and want to allow your brain to flower its way into the quiz, you can generate different puzzles over and over, leaving you with a smile on your face as you bask in the fun you can have by taking part in this fun online puzzle.
This spring word search "May" be just the remedy to help you ease out of those winter blues!
Free Spring Word Search
Online Game
Enjoy our free Spring Word Search puzzle online in real-time battle with your friend, or play a classic single-player game. There are easy, medium, and hard difficulty levels for new and advanced players.
Word search puzzle covering the spring season. Find all seasonal items.
Spring Word Search
Printable Puzzles
Break out your pens or pencils and get your eyes ready. Free printable Spring word search is the perfect solo activity for a rainy day for both kids and adults. All the words are hidden vertically, horizontally, or diagonally—in both directions.
Puzzle Vocabulary Words
Below you can see all possible words that the topic Spring has.
Depends on difficulty level you select in the game amount of words hidden in the puzzle will be different.
In Easy game you have to find up to 5 words, medium game can have up to 15 words and hard puzzle can have up to 23 words.
Every time you start a new game - our word search generator will pick random words to build the puzzle.
April
Bees
Birds
Blossom
Bunny
Butterfly
Chick
Easter
Eggs
Flowers
Garden
Green
Kites
March
May
Nest
Picnic
Rainbow
Season
Seeds
Spring
Sunshine
Tulip
Warm