All Word Search Puzzles
Space

Word Search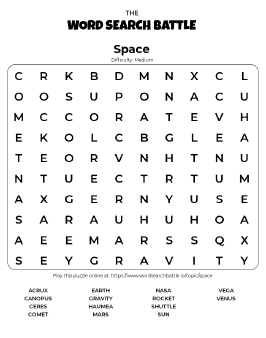 A vast expanse with seemingly no end. Have you ever been to the edge of space? While we can blast you off into orbit on a space rocket, we can entice you to explore space in this vega good space-themed Word Search Battle.
How far do you want to venture into space? Stay grounded or head into the stratosphere and go gravity-free in this cosmic online puzzle that can be played online and downloaded as a printable to take with you on your own space travels.
Head for the stars and generate a new space word search over and over again as you mimosa past mars, Jupiter, and Saturn before returning to earth! Is your space knowledge on par with NASA, or are you more earth-ling and prefer to keep your feet on terra Firma? See if you can comet and qualify for space travel by choosing one of our word search difficulty levels;
Blast off with an easy word search with up to 5 words
Asteroid further into space with a medium difficulty word search with up to 13 words
Makemake history with our hard word search that has up to 23 words.
Aim for the moon and play amongst the stars as you orbit the solar system and bring together the universe by playing this space word search battle with other astronauts to see who is worthy of being mission control and who is left behind. Whether you play online or as a printable puzzle, you can be sure to love this space-themed word search.
Free Space Word Search
Online Game
Enjoy our free Space Word Search puzzle online in real-time battle with your friend, or play a classic single-player game. There are easy, medium, and hard difficulty levels for new and advanced players.
These words related to space and planets might be tricky to find.
Space Word Search
Printable Puzzles
Break out your pens or pencils and get your eyes ready. Free printable Space word search is the perfect solo activity for a rainy day for both kids and adults. All the words are hidden vertically, horizontally, or diagonally—in both directions.
Puzzle Vocabulary Words
Below you can see all possible words that the topic Space has.
Depends on difficulty level you select in the game amount of words hidden in the puzzle will be different.
In Easy game you have to find up to 5 words, medium game can have up to 15 words and hard puzzle can have up to 23 words.
Every time you start a new game - our word search generator will pick random words to build the puzzle.
Acrux
Altair
Arcturus
Asteroid
Astronaut
Canopus
Ceres
Comet
Earth
Eris
Gravity
Haumea
Jupiter
Makemake
Mars
Mercury
Mimosa
Moon
Nasa
Neptune
Oxygen
Pluto
Rocket
Saturn
Shuttle
Sun
Uranus
Vega
Venus