All Word Search Puzzles
Soups

Word Search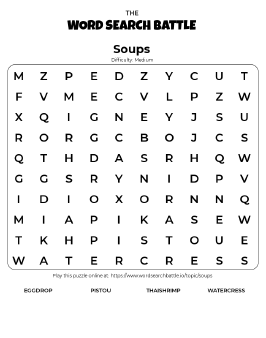 Chowder down on this lip-smacking Word Search Battle in this delectably tasty soups-themed word search. We have soups for everyone's taste buds, from mild to spicy to flavorsome and comforting. If you love a good bowl of soup, then you are in the right kitchen; we mean word search!
But exactly how hungry for soups are you?
Peckish - The easy levels have up to five words
I can eat - The medium level will give you up to 13 words
Ravenous - The hard level has up to 23 words.
Our word searches generate a new set of words for every game, depending on your difficulty level. Don't like to eat alone? Split pea the game and invite your friends using the game code for dining with others and seeing who has the biggest appetite. Make sure you have a napkin to hand; soups can get messy!
Feeling a bit of a spicy tortilla? Play alone and download our soup word search from an online puzzle to a printable download so you can test your knowledge while eating soup. You don't have to eat soup when playing this soups-themed online puzzle, but if the spoon fits!
On a serious note, hunger is no laughing matter. Hence, if you think you know your garlic broth from your egg broth or you can taste test an Italian wedding soup or minestrone, then feed your brain with this foodie-based word search that you can enjoy online and offline no reservation needed! So what are you waiting for? Grab a spoon and tuck in!
Free Soups Word Search
Online Game
Enjoy our free Soups Word Search puzzle online in real-time battle with your friend, or play a classic single-player game. There are easy, medium, and hard difficulty levels for new and advanced players.
Different soups are hidden within this word search puzzle. Find them all as fast as you can.
Soups Word Search
Printable Puzzles
Break out your pens or pencils and get your eyes ready. Free printable Soups word search is the perfect solo activity for a rainy day for both kids and adults. All the words are hidden vertically, horizontally, or diagonally—in both directions.
Puzzle Vocabulary Words
Below you can see all possible words that the topic Soups has.
Depends on difficulty level you select in the game amount of words hidden in the puzzle will be different.
In Easy game you have to find up to 5 words, medium game can have up to 15 words and hard puzzle can have up to 23 words.
Every time you start a new game - our word search generator will pick random words to build the puzzle.
Asian Chicken
Chicken Rice
Corn Chowder
Egg Drop
Egg Lemon
Fennel Carrot
Fish Chowder
French Onion
Garlic Broth
Italian Wedding
Mexican Bean
Minestrone
Pasta Fagioli
Pistou
Potato Chowder
Spicy Tortilla
Split Pea
Stracciatella
Thai Shrimp
Tomato Orzo
Tortellini
Vichyssoise
Watercress