All Word Search Puzzles
Skyscraper Cities

Word Search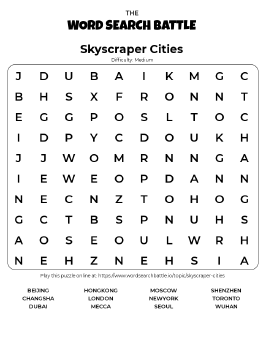 World-travellers and fans of super-tall buildings are going to love having their brain tested by this Skyscraper Cities Word Search. This puzzle from Word Search Battle has you finding cities from across the world, including Barcelona, Dubai, and Suzhou, all of them with the tallest skyscrapers of all.
Play online or download and print
Multiple difficulties to test your skills
Find up to 23 of the world's cities with the tallest skyscrapers
Free Skyscraper Cities Word Search
Online Game
Enjoy our free Skyscraper Cities Word Search puzzle online in real-time battle with your friend, or play a classic single-player game. There are easy, medium, and hard difficulty levels for new and advanced players.
See the world and explore all kinds of new heights with this Skyscraper Cities Word Search that sees how well you can recognize the world's tallest places.
Skyscraper Cities Word Search
Printable Puzzles
Break out your pens or pencils and get your eyes ready. Free printable Skyscraper Cities word search is the perfect solo activity for a rainy day for both kids and adults. All the words are hidden vertically, horizontally, or diagonally—in both directions.
Puzzle Vocabulary Words
Below you can see all possible words that the topic Skyscraper Cities has.
Depends on difficulty level you select in the game amount of words hidden in the puzzle will be different.
In Easy game you have to find up to 5 words, medium game can have up to 15 words and hard puzzle can have up to 23 words.
Every time you start a new game - our word search generator will pick random words to build the puzzle.
Abu Dhabi
Barcelona
Beijing
Busan
Changsha
Dubai
Hong Kong
Kuala Lumpur
Kuwait City
London
Marina Bay
Mecca
Moscow
New York
San Francisco
Seattle
Seoul
Shanghai
Shenzhen
Suzhou
Tianjin
Toronto
Wuhan