All Word Search Puzzles
Sea Food

Word Search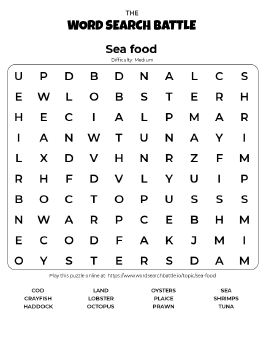 Are you going to have a go at this delightful sea food Word Search Battle? We promise you won't pull a muscle when you plaice your guesses in this online puzzle. Whether you fancy a barnacle at the different difficulty levels on this online word search or you want to flex your langoustine to go straight into the hard levels, this sea food word search challenge will have you crazy for cod and wacky for whelks.
With different levels to choose from when deciding which sea food delicacy is for you, an easy level generates 5 new words for word search generated, a medium difficulty word search has up to 13 different words each time, and a hard level can mix between 23 words. Will you be able to name 23 different sea food words in our word search?
Each new puzzle has different words each time to help you as you go crab fishing. But we hope you don't tuna roll to the bottom of the sea when challenging your friends to play against you online. Or are you clamming up in the company and want to trout the opposition by practicing before you take on a head-to-head challenge? Then you download our online games as printable to take with you and practice anytime, anywhere.
So what are you waiting for? Spread your tentacles and see how far you can dive into this foray of sea food fare in this fun and fishy-themed word search online today.
Free Sea Food Word Search
Online Game
Enjoy our free Sea Food Word Search puzzle online in real-time battle with your friend, or play a classic single-player game. There are easy, medium, and hard difficulty levels for new and advanced players.
Sea food words are hidden in this word search game. Try and find them all.
Sea Food Word Search
Printable Puzzles
Break out your pens or pencils and get your eyes ready. Free printable Sea Food word search is the perfect solo activity for a rainy day for both kids and adults. All the words are hidden vertically, horizontally, or diagonally—in both directions.
Puzzle Vocabulary Words
Below you can see all possible words that the topic Sea Food has.
Depends on difficulty level you select in the game amount of words hidden in the puzzle will be different.
In Easy game you have to find up to 5 words, medium game can have up to 15 words and hard puzzle can have up to 23 words.
Every time you start a new game - our word search generator will pick random words to build the puzzle.
Barnacles
Bream
Clams
Cod
Crab
Crayfish
Cuttlefish
Haddock
Krill
Land
Langoustine
Lobster
Mussels
Octopus
Oysters
Plaice
Prawn
Salmon
Scallops
Shrimps
Snails
Squid
Trout
Tuna
Whelks