All Word Search Puzzles
Sea Animals

Word Search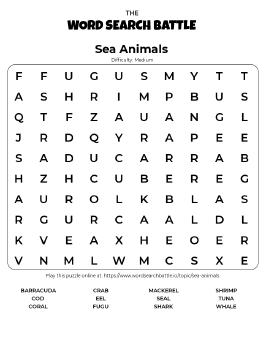 "Bobbing along, bobbing along, on the bottom of the beautiful briny sea..." This epic sea animals word search battle won't take you to the depths of the deep blue sea, but it can give you that underwater vibe thanks to the plethora of sea animals hiding in this online puzzle.
You Barracuda believe it! And you will have a whale of a time finding all the hidden sea animals in this watery word search.
A shallow dive into the ocean will net you an easy word search with up to 5 sea animals.
Dive slightly deeper to find a medium difficulty puzzle harboring up to 13 names of sea animals
Hit the ocean floor, and your hard word search is hiding up to 23 words amongst the coral.
Every time you dive into this sea animal word search, new words will be generated. We don't judge here if you prefer anchovy pizza or tuna in your pasta; all that matters is that you seal all the opportunities on Word Search Battle and download your printable so you can play abalone.
Cast a net far and wide and see who can reel in to play alongside you for these multiplayer word searches. But the big question is whether you will be a clownfish or a shark when playing online games. Or are you more of a jellyfish and choosing the easy online games to avoid losing?
Omega-3 is vital for brain function, but we reckon our online word searches are seapurb (sorry) in helping to keep your brain sharp and active.
Free Sea Animals Word Search
Online Game
Enjoy our free Sea Animals Word Search puzzle online in real-time battle with your friend, or play a classic single-player game. There are easy, medium, and hard difficulty levels for new and advanced players.
This word search game about a selection of animals which are found in the seas and oceans.
Sea Animals Word Search
Printable Puzzles
Break out your pens or pencils and get your eyes ready. Free printable Sea Animals word search is the perfect solo activity for a rainy day for both kids and adults. All the words are hidden vertically, horizontally, or diagonally—in both directions.
Puzzle Vocabulary Words
Below you can see all possible words that the topic Sea Animals has.
Depends on difficulty level you select in the game amount of words hidden in the puzzle will be different.
In Easy game you have to find up to 5 words, medium game can have up to 15 words and hard puzzle can have up to 23 words.
Every time you start a new game - our word search generator will pick random words to build the puzzle.
Abalone
Albacore
Anchovy
Angelfish
Barracuda
Clownfish
Cod
Coral
Crab
Cuttlefish
Dolphin
Eel
Fugu
Herring
Jellyfish
Lobster
Mackerel
Manatee
Octopus
Oyster
Plankton
Seal
Shark
Shrimp
Sponge
Tuna
Whale