All Word Search Puzzles
Science

Word Search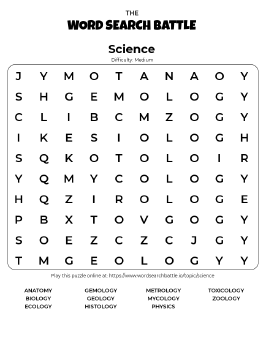 It is basic biology that the more you use your brain, the healthier it will be. Word Search Battles are here to help, all in the name of science, of course. Keep your brain sharp by teaming up to see how many science-related words you can find in our multiple-difficulty science word searches.
Delve into the anatomy of our online puzzles to assess the virology of each different one. We like to think it is the chemistry that keeps our word searches appealing to our players, but we are willing to bet the histology of our online puzzles is attractive to those who play.
So what do you say? Fancy putting your science knowledge to the test?
Get 5/5 for our easy difficulty online puzzles.
Get a maximum of 13 for a medium difficulty word search
23 gets you top marks in your science revision today.
Join a research team of other budding science nerds by playing our science word search battles online, or lock yourself in your lab by downloading our printables to do anytime or anywhere. Make sure you know your ecology from your phytology and generate some kinetic energy as you battle to win in our absolute "gemology" of a site that has enough online puzzles for you to keep busy.
Wondering how many more science puns we can fit in? Our knowledge of science is meteorologically out of this world; just ask the paleontologists. But we're just getting carried away now; we will let you decide if your science knowledge will get you top marks or if you need a refresher course!
Free Science Word Search
Online Game
Enjoy our free Science Word Search puzzle online in real-time battle with your friend, or play a classic single-player game. There are easy, medium, and hard difficulty levels for new and advanced players.
Find all of the study words hidden in the game related to Science.
Science Word Search
Printable Puzzles
Break out your pens or pencils and get your eyes ready. Free printable Science word search is the perfect solo activity for a rainy day for both kids and adults. All the words are hidden vertically, horizontally, or diagonally—in both directions.
Puzzle Vocabulary Words
Below you can see all possible words that the topic Science has.
Depends on difficulty level you select in the game amount of words hidden in the puzzle will be different.
In Easy game you have to find up to 5 words, medium game can have up to 15 words and hard puzzle can have up to 23 words.
Every time you start a new game - our word search generator will pick random words to build the puzzle.
Acoustics
Anatomy
Antropology
Biology
Chemistry
Ecology
Embriology
Entomology
Gemology
Geology
Histology
Hydrology
Kinetics
Lithology
Meteorology
Metrology
Mycology
Oceanology
Ornithology
Paleontology
Parasitology
Physics
Phytology
Toxicology
Virology
Vulcanology
Zoology