All Word Search Puzzles
Sauces

Word Search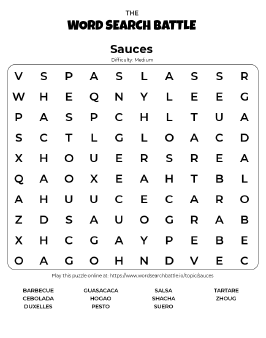 It's getting all saucy here at Word Search Battles. This sauces word search is likely to get you licking your lips with anticipation when you check out all the delightful condiments we have hidden in our puzzles today. If you weren't hungry before, we guarantee you will be dipping mad by the time you have worked your way through our variety of different difficulties and options for this sauce-themed online gameplay.
Get yourself hot under the collar by taking our hard quizzes featuring up to 23 words. Sriracha's got nothing on the heat our hard quizzes bring. But it's ok; if you download your word search as a printable, you can use the paper to fan off the heat.
Or maybe you want to salsa down to the easy level and handle up to 5 sauces in this entry-level online word search. Or maybe you need an online puzzle that falls in the middle? The medium difficulty level can bbq your brain by giving you up to 13 sauces to find.
Whether your Mojo Rojo is telling you to dish up the sauces to other online word search battle players, you can find the code to share on the screen, or you want to say tartare to other people and play alone, this online puzzle featuring some of the best-known sauces in the world will most definitely bring some flavor to your day. All you need now is the chips to go with these tasty dips. But the real question is, do you dip in your sauces? Are you a pour-all-over kind of person?
Free Sauces Word Search
Online Game
Enjoy our free Sauces Word Search puzzle online in real-time battle with your friend, or play a classic single-player game. There are easy, medium, and hard difficulty levels for new and advanced players.
The Word Search game on sauces which are popular in the world.
Sauces Word Search
Printable Puzzles
Break out your pens or pencils and get your eyes ready. Free printable Sauces word search is the perfect solo activity for a rainy day for both kids and adults. All the words are hidden vertically, horizontally, or diagonally—in both directions.
Puzzle Vocabulary Words
Below you can see all possible words that the topic Sauces has.
Depends on difficulty level you select in the game amount of words hidden in the puzzle will be different.
In Easy game you have to find up to 5 words, medium game can have up to 15 words and hard puzzle can have up to 23 words.
Every time you start a new game - our word search generator will pick random words to build the puzzle.
Barbecue
Bazhe
Bordelaise
Cebolada
Cranberry
Duxelles
Garum
Guasacaca
Hogao
Madeira
Marinara
Mojo Rojo
Pesto
Pipian
Pomarola
Salsa
Sambal
Samfaina
Sanbaizu
Shacha
Sofrito
Sriracha
Suero
Tartare
Tucupi
Zhoug