All Word Search Puzzles
Safari Animals

Word Search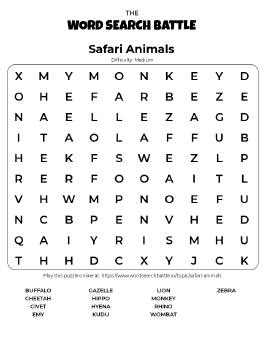 Safari so good here at Word Search Battle, where you can battle your way to the top of the animal kingdom in this safari animals themed word search. There no stripes on this online puzzle that you can download to play offline. Roam the straights of Africa as you head out on safari today. Don't forget your binoculars!
Keep your eyes peeled for all your favorite animals, and get up close and personal as you battle to win against friends in the ultimate word search battle online. Or seek shelter from the midday sun and play alone out of sight of the other animals.
Our word searches are sure to get a roar and delight the laughing hyenas as they play our word searches in different difficulty levels;
Up to 5 animals can appear in our Easy Word Searches Battles
Up to 13 animals roam around our Medium difficulty Word Search Battles
Up to 23 animals can be found in our Hard Word Search Battles
So if you know your wildebeest from your baboons, then you can kangaroo over here and put your skills to the test. Each new game generated gives you different words. Don't be a cheeter, though, and buffalo your chances of winning, or you will look like a right hippo. Play again and again until you are lion at the top of the leaderboard as the winner of your safari animals themed word search battle. There is plenty of room for every springbok, civet, and eland to test their animal knowledge and see who you can find when out on safari today.
Free Safari Animals Word Search
Online Game
Enjoy our free Safari Animals Word Search puzzle online in real-time battle with your friend, or play a classic single-player game. There are easy, medium, and hard difficulty levels for new and advanced players.
In this word puzzle try to find Safari Animals.
Safari Animals Word Search
Printable Puzzles
Break out your pens or pencils and get your eyes ready. Free printable Safari Animals word search is the perfect solo activity for a rainy day for both kids and adults. All the words are hidden vertically, horizontally, or diagonally—in both directions.
Puzzle Vocabulary Words
Below you can see all possible words that the topic Safari Animals has.
Depends on difficulty level you select in the game amount of words hidden in the puzzle will be different.
In Easy game you have to find up to 5 words, medium game can have up to 15 words and hard puzzle can have up to 23 words.
Every time you start a new game - our word search generator will pick random words to build the puzzle.
Baboon
Buffalo
Cheetah
Civet
Crocodile
Eland
Elephant
Emy
Gazelle
Giraffe
Gorilla
Hippo
Hyena
Kangaroo
Kudu
Leopard
Lion
Monkey
Rhino
Springbok
Warthog
Wildebeest
Wombat
Zebra