All Word Search Puzzles
Pokemon

Word Search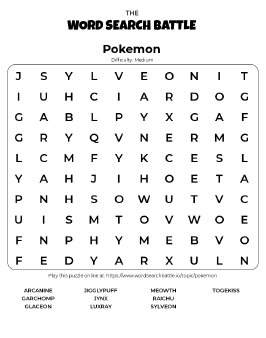 Pokémon word search takes you back to the heydey of this classic Japanese anime series. And just like before, you've gotta find 'em all. But this time, you're up against the clock. Find Pikachu, Snorlax, and Salamence hiding in among all the jumbled letters before the timer runs out to progress to the next stage. It's just as intense as the original games on the Nintendo. Get randomized creatures and characters from the Pokémon universe for each attempt and then level up.
Free Pokemon Word Search
Online Game
Enjoy our free Pokemon Word Search puzzle online in real-time battle with your friend, or play a classic single-player game. There are easy, medium, and hard difficulty levels for new and advanced players.
Pokémon word search makes you want to find 'em all, all over again! Find all the words before the timer runs out to win.
Pokemon Word Search
Printable Puzzles
Break out your pens or pencils and get your eyes ready. Free printable Pokemon word search is the perfect solo activity for a rainy day for both kids and adults. All the words are hidden vertically, horizontally, or diagonally—in both directions.
Puzzle Vocabulary Words
Below you can see all possible words that the topic Pokemon has.
Depends on difficulty level you select in the game amount of words hidden in the puzzle will be different.
In Easy game you have to find up to 5 words, medium game can have up to 15 words and hard puzzle can have up to 23 words.
Every time you start a new game - our word search generator will pick random words to build the puzzle.
Arcanine
Arceus
Charizard
Dialga
Dragonite
Eevee
Espeon
Garchomp
Giratina
Glaceon
Greninja
Gyarados
Jigglypuff
Jynx
Luxray
Meowth
Milotic
Pichu
Pikachu
Raichu
Salamence
Snorlax
Sylveon
Togekiss
Togepi
Vulpix