All Word Search Puzzles
Poke

Word Search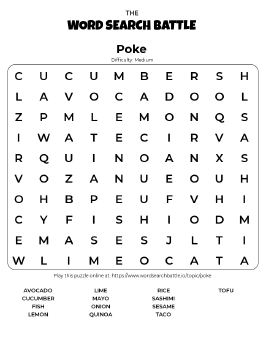 Free Poke Word Search
Online Game
Enjoy our free Poke Word Search puzzle online in real-time battle with your friend, or play a classic single-player game. There are easy, medium, and hard difficulty levels for new and advanced players.
Poke ingredients are hidden within this word search puzzle. Find them all as fast as you can.
Poke Word Search
Printable Puzzles
Break out your pens or pencils and get your eyes ready. Free printable Poke word search is the perfect solo activity for a rainy day for both kids and adults. All the words are hidden vertically, horizontally, or diagonally—in both directions.
Puzzle Vocabulary Words
Below you can see all possible words that the topic Poke has.
Depends on difficulty level you select in the game amount of words hidden in the puzzle will be different.
In Easy game you have to find up to 5 words, medium game can have up to 15 words and hard puzzle can have up to 23 words.
Every time you start a new game - our word search generator will pick random words to build the puzzle.
Appetizer
Avocado
Cucumber
Fish
Furikake
Garlic
Lemon
Lime
Mahimahi
Mayo
Onion
Quinoa
Radish
Rice
Salmon
Sashimi
Sesame
Shrimp
Soy Sause
Sriracha
Taco
Teriyaki
Tofu
Tuna