All Word Search Puzzles
Planets

Word Search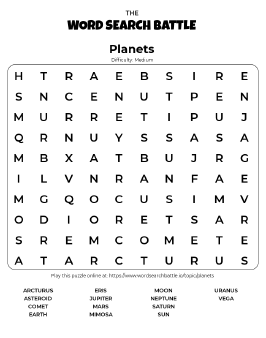 Enjoy a challenge from outer space with this Planets Word Search, found amongst the stars by Word Search Battle. Test your knowledge of not only the planets (and ex-planet Pluto), but find all manner of moons and celestial terminology in a game that can be played in three selectable difficulties.
Play online or download and print
Multiple difficulties to test your skills
Find up to 23 planets, moons, and heavenly bodies
Free Planets Word Search
Online Game
Enjoy our free Planets Word Search puzzle online in real-time battle with your friend, or play a classic single-player game. There are easy, medium, and hard difficulty levels for new and advanced players.
Explore the final frontier and see how well you know our skies, with this Planets Word Search that takes your brain to the outer edges of the solar system.
Planets Word Search
Printable Puzzles
Break out your pens or pencils and get your eyes ready. Free printable Planets word search is the perfect solo activity for a rainy day for both kids and adults. All the words are hidden vertically, horizontally, or diagonally—in both directions.
Puzzle Vocabulary Words
Below you can see all possible words that the topic Planets has.
Depends on difficulty level you select in the game amount of words hidden in the puzzle will be different.
In Easy game you have to find up to 5 words, medium game can have up to 15 words and hard puzzle can have up to 23 words.
Every time you start a new game - our word search generator will pick random words to build the puzzle.
Akrux
Altair
Arcturus
Asteroid
Canopus
Ceres
Comet
Earth
Eris
Haumea
Jupiter
Makemake
Mars
Mercury
Mimosa
Moon
Neptune
Pluto
Saturn
Sun
Uranus
Vega
Venus