All Word Search Puzzles
Pizza Toppings

Word Search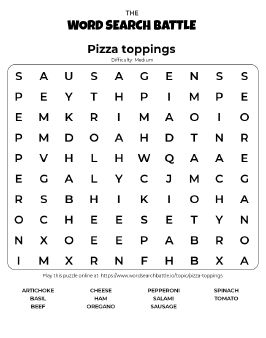 Create your perfect pizza with this Pizza Toppings Word Search that sees you finding all kinds of flavor options from a menu of randomized letters. See if you can find some of your favorite toppings or perhaps you will end up with some of the strangest combinations possible thanks to this randomized puzzle.
Play online or download and print
Multiple difficulties to test your skills
Find up to 23 words based on all the popular (and some lesser-known) toppings
Free Pizza Toppings Word Search
Online Game
Enjoy our free Pizza Toppings Word Search puzzle online in real-time battle with your friend, or play a classic single-player game. There are easy, medium, and hard difficulty levels for new and advanced players.
Find all of the different options from this Pizza Toppings Word Search and combine to create a flavor that will really get your brain working overtime.
Pizza Toppings Word Search
Printable Puzzles
Break out your pens or pencils and get your eyes ready. Free printable Pizza Toppings word search is the perfect solo activity for a rainy day for both kids and adults. All the words are hidden vertically, horizontally, or diagonally—in both directions.
Puzzle Vocabulary Words
Below you can see all possible words that the topic Pizza Toppings has.
Depends on difficulty level you select in the game amount of words hidden in the puzzle will be different.
In Easy game you have to find up to 5 words, medium game can have up to 15 words and hard puzzle can have up to 23 words.
Every time you start a new game - our word search generator will pick random words to build the puzzle.
Artichoke
Bacon
Basil
Beef
Blackolives
Cheddar
Cheese
Chicken
Garlic
Ham
Jalopeno
Mozzarella
Mushroom
Oregano
Pepperoni
Pineapple
Provolone
Red Onion
Red Pepper
Salami
Sausage
Spinach
Tomato