All Word Search Puzzles
Pets

Word Search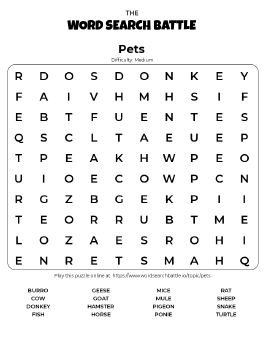 Love your animal companions? Then you should have no problem finding them in this Pets Word Search from The Word Search Battle. Test your mind online or by downloading and printing this puzzle that sees you finding all manner of words like snake, ferret, dogs, and skink.
Play online or download and print
Multiple difficulties to test your skills
Challenge friends online or play alone
Create your own avatar and username to track your best scores
Find up to 23 words all related to pets of all shapes and sizes
Free Pets Word Search
Online Game
Enjoy our free Pets Word Search puzzle online in real-time battle with your friend, or play a classic single-player game. There are easy, medium, and hard difficulty levels for new and advanced players.
All creatures great and small are waiting to be found in this Pets Word Search that tests your ability to find all manner of critters from the jumble of words.
Pets Word Search
Printable Puzzles
Break out your pens or pencils and get your eyes ready. Free printable Pets word search is the perfect solo activity for a rainy day for both kids and adults. All the words are hidden vertically, horizontally, or diagonally—in both directions.
Puzzle Vocabulary Words
Below you can see all possible words that the topic Pets has.
Depends on difficulty level you select in the game amount of words hidden in the puzzle will be different.
In Easy game you have to find up to 5 words, medium game can have up to 15 words and hard puzzle can have up to 23 words.
Every time you start a new game - our word search generator will pick random words to build the puzzle.
Bearded Dragon
Bird
Burro
Cat
Chameleon
Chicken
Chinchillas
Cow
Dogs
Donkey
Duck
Ferret
Fish
Gecko
Geese
Gerbils
Goat
Hamster
Hedgehog
Horse
Iguana
Lizard
Llama
Mice
Mule
Peafowl
Pigeon
Ponie
Rabbit
Rat
Sheep
Skink
Snake
Swan
Tarantula
Turkey
Turtle