All Word Search Puzzles
Nuts and Seeds

Word Search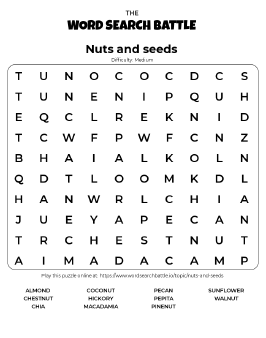 Squirreled away in the depths of the best word search battles on the internet lies a nuts and seeds themed online game that will not only have you nutty for nuts but will have you coconuts for hazelnuts when you download the printable version too.
We all know nuts and seeds are good for you but did you know that they are brain food? These online word searches related to nuts and seeds walnut let you down, as you can see from all the different word options for your games from our nutty selection.
But excuse us while we flex our prowess when it comes to word search battles. Our three different difficulty levels mean that you can choose to play;
Easy word searches have up to five words
Medium word searches have up to 13 words
Hard word searches have up to 23 words.
Is it just cashew playing alone? Or are you playing with your new butternut? You can download your printable to play alone, or you can invite your friends to play using the game code to see who is the top nut and who seed-iously needs to head back to macadamia to brush up on their knowledge.
Expand your diet and your knowledge with this deliciously nutty nuts and seeds word search and boost your brainpower and your taste buds in this tasty yet nutritious themed word search. A nut allergy is no problem here; we promise to keep our chestnuts to ourselves and provide a fun, safe gameplay for everyone.
Free Nuts and Seeds Word Search
Online Game
Enjoy our free Nuts and Seeds Word Search puzzle online in real-time battle with your friend, or play a classic single-player game. There are easy, medium, and hard difficulty levels for new and advanced players.
Many different types of nuts are hidden within the letters, find the all.
Nuts and Seeds Word Search
Printable Puzzles
Break out your pens or pencils and get your eyes ready. Free printable Nuts and Seeds word search is the perfect solo activity for a rainy day for both kids and adults. All the words are hidden vertically, horizontally, or diagonally—in both directions.
Puzzle Vocabulary Words
Below you can see all possible words that the topic Nuts and Seeds has.
Depends on difficulty level you select in the game amount of words hidden in the puzzle will be different.
In Easy game you have to find up to 5 words, medium game can have up to 15 words and hard puzzle can have up to 23 words.
Every time you start a new game - our word search generator will pick random words to build the puzzle.
Acorn
Almond
Anacardium
Araucaria
Beechnut
Brazil
Butternut
Cashew
Chestnut
Chia
Coconut
Filbert
Flax
Hazelnut
Hickory
Kolanut
Macadamia
Mandelonas
Pecan
Pepita
Pinenut
Pistachio
Sesame
Sunflower
Walnut