All Word Search Puzzles
Mexican Food

Word Search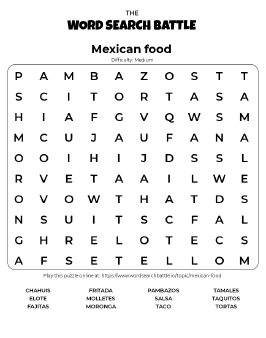 As home to some of the finest and most delicious foods around the world, Mexico is popular for so much more than beaches and music. Mexican food listed in this word search will truly get your appetite going, and when you find the names of all the popular dishes in this online puzzle, you'll be planning Mexican food into your next grocery list. If you haven't been to Mexico before, allow us to talk you through it:
When you walk around the towns and cities in Mexico, you'll notice the importance of fragrant, flavorful cooking. Everything is as natural as possible, from the Pozole to the Quesadillas, and popular Mexican food dishes are packed full of spices, flavors and colors that will blow your mind! Whether this word search is for you or the kids, you'll all be chowing down on empanadas and taquitos soon enough! This word search is a fantastic rainy day activity for everyone, and you'll be ready for Mexican food in no time at all.
This word search makes for some delicious fun and it's a great way to practice early reading and build vocabulary. You and the kids will get a kick out of the new Mexican food dishes they;'ll learn. It's always fun to learn about another culture and you can make this a challenge with a clock timer and the chance for the winner to choose Mexican food to try out! Take your time, but look closely - all of the words are buried in the letters!
Free Mexican Food Word Search
Online Game
Enjoy our free Mexican Food Word Search puzzle online in real-time battle with your friend, or play a classic single-player game. There are easy, medium, and hard difficulty levels for new and advanced players.
A word search game on foods which are popular in Mexico.
Mexican Food Word Search
Printable Puzzles
Break out your pens or pencils and get your eyes ready. Free printable Mexican Food word search is the perfect solo activity for a rainy day for both kids and adults. All the words are hidden vertically, horizontally, or diagonally—in both directions.
Puzzle Vocabulary Words
Below you can see all possible words that the topic Mexican Food has.
Depends on difficulty level you select in the game amount of words hidden in the puzzle will be different.
In Easy game you have to find up to 5 words, medium game can have up to 15 words and hard puzzle can have up to 23 words.
Every time you start a new game - our word search generator will pick random words to build the puzzle.
Aguachile
Bolillos
Burrito
Camote
Chahuis
Chalupa
Chapulines
Elote
Enchilada
Fajitas
Fritada
Huaraches
Machaca
Memela
Menudo
Mixiotes
Molletes
Molotes
Moronga
Nachos
Pambazos
Panucho
Papadzules
Parilladas
Quesadillas
Queso
Romeritos
Salsa
Sincronizadas
Taco
Tamales
Taquitos
Tlacoyos
Tortas