All Word Search Puzzles
Liv and Maddie

Word Search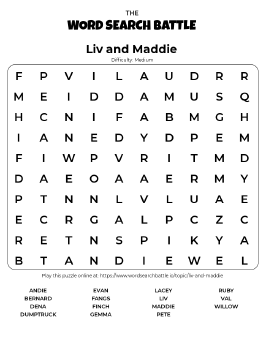 Liv and Maddie word search is a homage to the American comedy television series of the same name, aired on the Disney Channel between 2013 and 2017. Pit your knowledge of the four seasons of the show against the clock as you attempt to find all the words listed below the puzzle before the timer runs out. Use this word search to relive your love of this popular series, created by Ron Hard and John D. Beck. Find names and characters from the show to win.
Free Liv and Maddie Word Search
Online Game
Enjoy our free Liv and Maddie Word Search puzzle online in real-time battle with your friend, or play a classic single-player game. There are easy, medium, and hard difficulty levels for new and advanced players.
The Liv and Maddie word search lets you relive the classic Disney Channel show while having fun at the same time.
Liv and Maddie Word Search
Printable Puzzles
Break out your pens or pencils and get your eyes ready. Free printable Liv and Maddie word search is the perfect solo activity for a rainy day for both kids and adults. All the words are hidden vertically, horizontally, or diagonally—in both directions.
Puzzle Vocabulary Words
Below you can see all possible words that the topic Liv and Maddie has.
Depends on difficulty level you select in the game amount of words hidden in the puzzle will be different.
In Easy game you have to find up to 5 words, medium game can have up to 15 words and hard puzzle can have up to 23 words.
Every time you start a new game - our word search generator will pick random words to build the puzzle.
Andie
Artie
Bernard
Dena
Diggie
Dump Truck
Evan
Fangs
Finch
Gemma
Holden
Joey
Johnny Nimbus
Josh
Karen
Lacey
Liv
Maddie
Pete
Reggie
Ruby
Stains
Val
Willow