All Word Search Puzzles
Languages

Word Search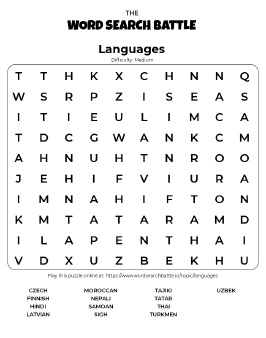 Bonjour, mon amis! That means "hello, my friend", and this word search is going to teach you and challenge you all at the same time. You'll not only learn new languages, you're going to learn how to spell in a new language, too. Some of the most spoken languages around the world are the common ones you hear on the street: English, Spanish, Arabic and more. Whether you speak French or you are interested in speaking Chinese, this is a word search that will get your creative juices flowing and make you feel like you're on a globe-trotting adventure. Whatever languages you speak or don't speak, maybe this is the online puzzle that encourages you to try something new today.
If you want to make this a huge game, get a group together and use this word search printable to have fun! Parlez-vous Francais? Well, you might not yet but by the end of this word search, you might choose to book a few classes. Which languages do you speak right now? The world is a smorgasbord of culture, and this is a word search that'll encourage you to explore a little further beyond your window.
The words go up and down and you may find that the letters in some words cross over into others, but don't be alarmed, all of the words are in this online puzzle and you can find them all!
When you find all the words, try one of our many other puzzles on the site. You won't be disappointed with the range of choices!
Free Languages Word Search
Online Game
Enjoy our free Languages Word Search puzzle online in real-time battle with your friend, or play a classic single-player game. There are easy, medium, and hard difficulty levels for new and advanced players.
Word search puzzle covering the most popular languages of the world.
Languages Word Search
Printable Puzzles
Break out your pens or pencils and get your eyes ready. Free printable Languages word search is the perfect solo activity for a rainy day for both kids and adults. All the words are hidden vertically, horizontally, or diagonally—in both directions.
Puzzle Vocabulary Words
Below you can see all possible words that the topic Languages has.
Depends on difficulty level you select in the game amount of words hidden in the puzzle will be different.
In Easy game you have to find up to 5 words, medium game can have up to 15 words and hard puzzle can have up to 23 words.
Every time you start a new game - our word search generator will pick random words to build the puzzle.
Afrikaans
Albanian
Amharic
Arabic
Armenian
Bashkort
Bosnian
Bulgarian
Cantonese
Catalan
Cebuano
Chechen
Cherokee
Croatian
Czech
Danish
Dholuo
Dutch
English
Esperanto
Finnish
French
Georgian
German
Hawaiian
Hebrew
Hindi
Hungarian
Italian
Japanese
Korean
Latin
Latvian
Lithuanian
Macedonian
Mandarin
Mongolian
Moroccan
Nepali
Norwegian
Persian
Polish
Portuguese
Romanian
Russian
Samoan
Serbian
Sigh
Sindhi
Slovak
Slovene
Somali
Spanish
Swedish
Tagalog
Tajiki
Tatar
Thai
Tibetic
Turkish
Turkmen
Ukrainian
Uzbek
Vietnamese