All Word Search Puzzles
Japanese Food

Word Search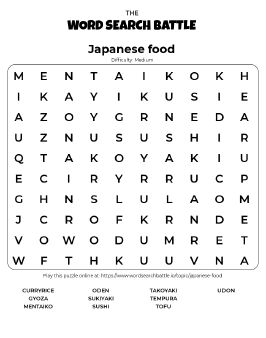 Japanese food is all about preparation and presentation as much as it is the food itself, and in this word search, you'll find some Japanese food names that will give you pause for thought. This word search will show you a variety of dishes and regional specialities that you may not have considered trying before. Watch out, though, going through this online puzzle may get your stomach rumbling, because the Japanese food words hidden in this puzzle will have you thinking about your next meal in no time at all. No matter the dish, you will delight the senses in your next cooking sesh!
This word search is a great activity while you cook, and it's going to give you a chance to consider Japanese food as your next family night out. Did you know that Japanese food chefs consider the seasons when they select ingredients for dishes? The online puzzle we have here will challenge you in ways that other word searches wouldn't. Japanese food dishes are exotic, and finding the right spelling is going to be a fun way to push yourself in your quest for the right words.
Take this word search and make it fun with the whole family. If you're looking after other children, you can get their competitive juices flowing and see whether they can race the clock to find all of the words on the list before the time runs out. This word search is printable, too, so you can print it and take it to go!
Free Japanese Food Word Search
Online Game
Enjoy our free Japanese Food Word Search puzzle online in real-time battle with your friend, or play a classic single-player game. There are easy, medium, and hard difficulty levels for new and advanced players.
A word search game on the different types of Japanese food.
Japanese Food Word Search
Printable Puzzles
Break out your pens or pencils and get your eyes ready. Free printable Japanese Food word search is the perfect solo activity for a rainy day for both kids and adults. All the words are hidden vertically, horizontally, or diagonally—in both directions.
Puzzle Vocabulary Words
Below you can see all possible words that the topic Japanese Food has.
Depends on difficulty level you select in the game amount of words hidden in the puzzle will be different.
In Easy game you have to find up to 5 words, medium game can have up to 15 words and hard puzzle can have up to 23 words.
Every time you start a new game - our word search generator will pick random words to build the puzzle.
Chawanmushi
Curry Rice
Donburi
Edamame
Gyoza
Kashipan
Mentaiko
Miso Soup
Natto
Nikujaga
Oden
Okonomiyaki
Onigiri
Ramen
Sashimi
Sukiyaki
Sushi
Takoyaki
Tamagoyaki
Tempura
Tofu
Tonkatsu
Udon
Unagi
Wagashi
Yakisoba
Yakitori