All Word Search Puzzles
Italian Food

Word Search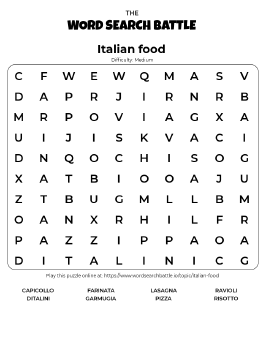 Oh, Italian food - bellissimo! You'll be performing your best chef's kiss by the end of this hearty Italian word search, especially as Italian cuisine is considered to be a national treasure. Italian food varies depending on where you are eating in the country and it's a regional cuisine that makes it very difficult to choose a favorite! You'll have a mouth-watering time when you are searching for all of the Italian food words in this list, and while you're searching, picture yourself on a sun-soaked terrace in Rome. You've got a biscotti and a latte next to you and you can smell the fresh garlic bread from the oven cooking.
This puzzle will sum up the hearty culture of Italian food and these are all dishes that will have you desperate for a taste or two! This fun Italian food word search can offer endless entertainment for the kids as well as a chance to learn some new dishes for the whole family to try. From Gnocchi to Tiramisu, you are going to get a chance to discover something new while you exercise your brain and practice your spelling! This word search online puzzle is also printable and it can be a whole new way to create a food-filled diversion!
Set yourself a challenge and print out a few sheets for your friends. The last person to complete the word search has to treat everyone to a new dish! You'll get a chance to try something entirely new. Enjoy every second: ciao bella!
Free Italian Food Word Search
Online Game
Enjoy our free Italian Food Word Search puzzle online in real-time battle with your friend, or play a classic single-player game. There are easy, medium, and hard difficulty levels for new and advanced players.
A word search game on foods which are popular in Italy.
Italian Food Word Search
Printable Puzzles
Break out your pens or pencils and get your eyes ready. Free printable Italian Food word search is the perfect solo activity for a rainy day for both kids and adults. All the words are hidden vertically, horizontally, or diagonally—in both directions.
Puzzle Vocabulary Words
Below you can see all possible words that the topic Italian Food has.
Depends on difficulty level you select in the game amount of words hidden in the puzzle will be different.
In Easy game you have to find up to 5 words, medium game can have up to 15 words and hard puzzle can have up to 23 words.
Every time you start a new game - our word search generator will pick random words to build the puzzle.
Acquacotta
Agliata
Agnolotti
Capicollo
Caponata
Caprese Salad
Ciabatta
Ciambotta
Ditalini
Farinata
Fettuccine
Focaccia Bread
Garmugia
Lasagna
Maccu
Panettone
Panna Cotta
Panzanella
Pasta Carbonara
Pizza
Ravioli
Risotto
Spaghetti
Tiramisu