All Word Search Puzzles
Ice Cream Flavor's

Word Search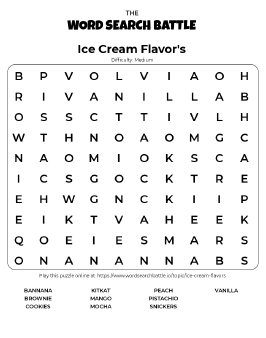 Stop on by the parlor to scoop out some of your absolute favorites with this Ice Cream Flavours Word Search that sees how well you know your frozen treats. There are all manner of flavors to be found in this randomizing word search, including perennial favorites like chocolate and rocky road.
Play online or download and print
Multiple difficulties to test your skills
Find up to 23 words named after all your favorite ice cream flavors
Free Ice Cream Flavor's Word Search
Online Game
Enjoy our free Ice Cream Flavor's Word Search puzzle online in real-time battle with your friend, or play a classic single-player game. There are easy, medium, and hard difficulty levels for new and advanced players.
Scoop up a jumble of letters that get randomized every time and find up to 23 different flavors in this Ice Cream Flavors Word Search.
Ice Cream Flavor's Word Search
Printable Puzzles
Break out your pens or pencils and get your eyes ready. Free printable Ice Cream Flavor's word search is the perfect solo activity for a rainy day for both kids and adults. All the words are hidden vertically, horizontally, or diagonally—in both directions.
Puzzle Vocabulary Words
Below you can see all possible words that the topic Ice Cream Flavor's has.
Depends on difficulty level you select in the game amount of words hidden in the puzzle will be different.
In Easy game you have to find up to 5 words, medium game can have up to 15 words and hard puzzle can have up to 23 words.
Every time you start a new game - our word search generator will pick random words to build the puzzle.
Bannana
Birthdaycake
Blackberry
Blackcherry
Blueberry
Bluemoon
Brownie
Bubblegum
Caramel
Cheesecake
Cherry Garcia
Chocolatechip
Coconut
Coffee
Cookiedough
Cookies
Cottoncandy
Kitkat
Lemon Sorbet
Lime Sherbet
Mango
Mocha
Neapolitan
Orange Sherbet
Oreo Cookie
Peach
Peppermint
Pina Colada
Pineapple
Pistachio
Rainbow Sherbet
Raspberry
Red Velvet Cake
Rockyroad
Snickers
Strawberry
Vanilla
Watermelon
White Chocolate