All Word Search Puzzles
Harry Potter

Word Search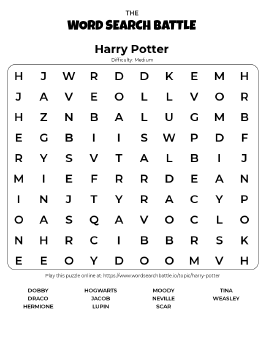 Based on the mega-popular world and series of books, movies, plays, and more from the mind of JK Rowling, this Harry Potter Word Search from Word Search Battle is a fantastic fun-time activity for fans of the series.
Step into the Wizarding World of Hogwarts with three difficulties, Easy, Medium, and Hard, each of them with different amounts of words they will ask you to find from the jumble of letters. You can either download and print out these puzzles to play on paper or take your knowledge online to pit against your friends and other players.
Much like the hallways of Hogwarts, this puzzle changes on the regular. Every time you play, it generates a new puzzle, so you can keep testing your knowledge of all things Harry Potter.
Play online or download and print
Multiple difficulties to test your skills
Challenge friends online or play alone
Create your own avatar and username to track your best scores
Find up to 23 words all related to Harry Potter, the books, and the movies
Free Harry Potter Word Search
Online Game
Enjoy our free Harry Potter Word Search puzzle online in real-time battle with your friend, or play a classic single-player game. There are easy, medium, and hard difficulty levels for new and advanced players.
See how well you know your Wizarding World with a Harry Potter Word Search that tests whether you can tell your Hufflepuffs from your Horcruxes.
Harry Potter Word Search
Printable Puzzles
Break out your pens or pencils and get your eyes ready. Free printable Harry Potter word search is the perfect solo activity for a rainy day for both kids and adults. All the words are hidden vertically, horizontally, or diagonally—in both directions.
Puzzle Vocabulary Words
Below you can see all possible words that the topic Harry Potter has.
Depends on difficulty level you select in the game amount of words hidden in the puzzle will be different.
In Easy game you have to find up to 5 words, medium game can have up to 15 words and hard puzzle can have up to 23 words.
Every time you start a new game - our word search generator will pick random words to build the puzzle.
Bellatrix
Deatheater
Dobby
Draco
Dumbledore
Granger
Grindelwald
Gryffindor
Hagrid
Harry Potter
Hermione
Hogwarts
Hufflepuff
Jacob
Lupin
McGonagall
Moody
Neville
Queenie
Quidditch
Ravenclaw
Ronald
Scar
Sirius
Slytherin
Snape
Tina
Voldemort
Weasley
Wizardry