All Word Search Puzzles
Happy New Year

Word Search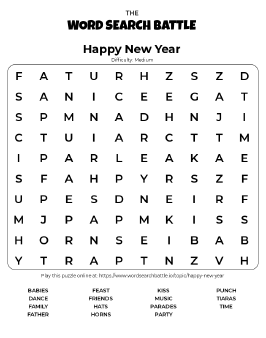 New Year's Eve is the last day of the year and it's the day the entire world shrieks Happy New Year at midnight - it's one of the only things almost every nation has in common. It's one of the most celebrated holidays in the world and within this word search, we have a list of words related to New Year that you can dig up and circle. People often celebrate their New Year with parties, food, drinks and dancing, and they usually sing along for Auld Lang Syne as the clock strikes midnight.
Every single country has its own traditions, from the ball dropping in America to Big Ben bonging at midnight in London. Sydney Opera House lights up with fireworks and Shanghai puts on a massive show, too. This Happy New Year printable is the perfect activity to do with your family during the New Year holiday or at any other time of the year, and it's ideal for those who are in school and those who aren't. Word searches like this one can make you feel excited about the change in the year - it's a clean slate for everyone!
You can add an extra layer of excitement during this online puzzle by racing your friends and trying to complete the word search within the quickest amount of time, too. It's the perfect easy activity for the kids, the classroom and even the grown ups to enjoy. Diving into this printable will give you a distraction and make your New Year more fun. Happy New Year!
Free Happy New Year Word Search
Online Game
Enjoy our free Happy New Year Word Search puzzle online in real-time battle with your friend, or play a classic single-player game. There are easy, medium, and hard difficulty levels for new and advanced players.
These New Year word search puzzles feature hidden New Year words to find.
Happy New Year Word Search
Printable Puzzles
Break out your pens or pencils and get your eyes ready. Free printable Happy New Year word search is the perfect solo activity for a rainy day for both kids and adults. All the words are hidden vertically, horizontally, or diagonally—in both directions.
Puzzle Vocabulary Words
Below you can see all possible words that the topic Happy New Year has.
Depends on difficulty level you select in the game amount of words hidden in the puzzle will be different.
In Easy game you have to find up to 5 words, medium game can have up to 15 words and hard puzzle can have up to 23 words.
Every time you start a new game - our word search generator will pick random words to build the puzzle.
Appetizers
Babies
Balloons
Banners
Buffet
Celebrate
Champagne
Confetti
Dance
December
Decorations
Events
Family
Father
Feast
Fireworks
First
Friends
Hats
Holiday
Horns
Kiss
Midnight
Music
Noisemakers
Occasion
Parades
Party
Punch
Resolutions
Singing
Streamers
Tiaras
Time