All Word Search Puzzles
Halloween

Word Search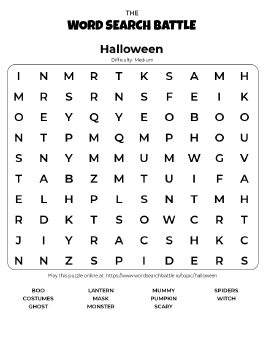 There's no doubt that Halloween is the spookiest time in the year. Embrace these season scares with this Halloween Word Search. Games can have as many as 23 Halloween-related words, all of which have been carefully picked to keep them relevant. You can even download or print your puzzles for later use offline. These puzzles are excellent games for adults and kids alike, with each difficulty level taking games up a notch.
Our smart Word Search system provides you with the ability to choose avatars, a unique name, a difficulty level, and the topic you'd like the Word Search to surround. You also have the ability to join a friend's game or have them enter your own, as well as choosing to play singleplayer against the computer. This is a great way to test your knowledge and improve your mind's agility.
Multiplayer and singleplayer modes available
Dozens of keywords handpicked for Halloween
Suitable for adults and children
Pick from three difficult levels
Download and print puzzles for later use
Free Halloween Word Search
Online Game
Enjoy our free Halloween Word Search puzzle online in real-time battle with your friend, or play a classic single-player game. There are easy, medium, and hard difficulty levels for new and advanced players.
Get ready for a scare with this multiplayer Halloween Word Search. Easy system and countless subjects to choose from.
Halloween Word Search
Printable Puzzles
Break out your pens or pencils and get your eyes ready. Free printable Halloween word search is the perfect solo activity for a rainy day for both kids and adults. All the words are hidden vertically, horizontally, or diagonally—in both directions.
Puzzle Vocabulary Words
Below you can see all possible words that the topic Halloween has.
Depends on difficulty level you select in the game amount of words hidden in the puzzle will be different.
In Easy game you have to find up to 5 words, medium game can have up to 15 words and hard puzzle can have up to 23 words.
Every time you start a new game - our word search generator will pick random words to build the puzzle.
Boo
Candy
Costumes
Dark
Dracula
Evil
Ghost
Goblins
Halloween
Lantern
Mask
Monster
Mummy
October
Pumpkin
Scary
Skull
Spiders
Spooky
Vampire
Witch
Wizard
Zombie