All Word Search Puzzles
Fuller House

Word Search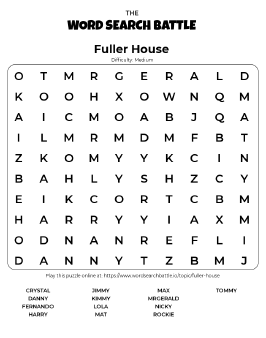 Fuller House word search is the perfect way to celebrate your love of the Netflix Original Series. You'll reacquaint yourself with the full names of the cast as you battle against the clock to find all the words listed in time. The latest Fuller House is the sequel to the original 1987 - 1985 American series Full House, centering around the story of D.J, now sadly a widow and mother to her three raucous boys. Relive this classic in word puzzle form and test your wits today.
Free Fuller House Word Search
Online Game
Enjoy our free Fuller House Word Search puzzle online in real-time battle with your friend, or play a classic single-player game. There are easy, medium, and hard difficulty levels for new and advanced players.
Fuller House word search asks you to find words associated with the Netflix Original while paying homage to the classic Full House.
Fuller House Word Search
Printable Puzzles
Break out your pens or pencils and get your eyes ready. Free printable Fuller House word search is the perfect solo activity for a rainy day for both kids and adults. All the words are hidden vertically, horizontally, or diagonally—in both directions.
Puzzle Vocabulary Words
Below you can see all possible words that the topic Fuller House has.
Depends on difficulty level you select in the game amount of words hidden in the puzzle will be different.
In Easy game you have to find up to 5 words, medium game can have up to 15 words and hard puzzle can have up to 23 words.
Every time you start a new game - our word search generator will pick random words to build the puzzle.
Alex
Bobby
Crystal
Danny
Donajo
Fernando
Harry
Jackson
Janet
Jesse
Jimmy
Joey
Kimmy
Lola
Mat
Max
Mr Gerald
Nicky
Popko
Ramona
Rebecca
Rockie
Rose
Stephanie
Steve
Teri
Tommy