All Word Search Puzzles
French Food

Word Search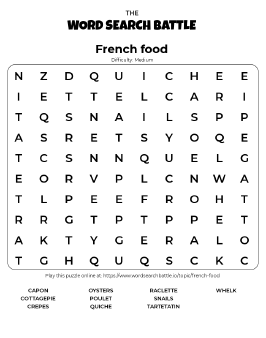 As you may know, France is famous for it's delicious French food. Of course, in France they just call it "food", and this word search is a printable that will have you desperate for your next taste of Coq au Vin! You should look down this list and sample these dishes at least once in life, and the word search is going to show off a little more of the French food you've been missing out on.
The culinary specialties on this list are going to blow your mind - and with a little research, you'll also find that these are often linked to specific regions throughout France. Some of the dishes are passed through the generations in France, and we're all lucky enough to enjoy them at various restaurants and cafes throughout the world. French food is typically delicious, delicate and enough to make you dribble. Simply finding the words throughout this word search will also be enough to encourage you to book a table at your local brasserie, too!
France has a reputation for excellence when it comes to food and these dishes sound as luxurious as they taste. Quality cheeses, menu choices, wine and more are all going to tantalize your taste buds! Check out these French foods on this word search in every direction, and don't be afraid to add your new dishes to your shopping list!
Set the timer and see how long it takes you to travel all over the French regions for some of the most delicious food around.
Free French Food Word Search
Online Game
Enjoy our free French Food Word Search puzzle online in real-time battle with your friend, or play a classic single-player game. There are easy, medium, and hard difficulty levels for new and advanced players.
A word search game on foods which are popular in France.
French Food Word Search
Printable Puzzles
Break out your pens or pencils and get your eyes ready. Free printable French Food word search is the perfect solo activity for a rainy day for both kids and adults. All the words are hidden vertically, horizontally, or diagonally—in both directions.
Puzzle Vocabulary Words
Below you can see all possible words that the topic French Food has.
Depends on difficulty level you select in the game amount of words hidden in the puzzle will be different.
In Easy game you have to find up to 5 words, medium game can have up to 15 words and hard puzzle can have up to 23 words.
Every time you start a new game - our word search generator will pick random words to build the puzzle.
Bouillabaisse
Capon
Cassoulet
Cottage Pie
Crepes
Croissant
Croque Monsieur
Foie Gras
Fondue
Frogs Legs
Onion Soup
Oysters
Poulet
Profiteroles
Quiche
Raclette
Ratatouille
Sauerkraut
Snails
Souffle
Steak Tartare
Tarte Tatin
Tartiflette
Whelk