All Word Search Puzzles
French Desserts

Word Search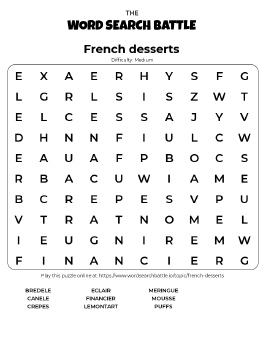 A word of warning: this word search online puzzle may cause cravings for tarte tatin and delicious chocolate eclairs!
Well, not really, but you still may read some of the best French desserts and decide it's time for something new on your family menu this week! This is a fun word search designed to whet your whistle and give you a taste of something a little different for a change. We all have our favorite desserts, but there's nothing wrong with learning about some new ones. French desserts range from the light and delicate to heavier and cream-filled, and all of them are just delicious. There is a huge range of flavors and types of French desserts out there, and France is renowned for the wonderful range of pastries and desserts. In fact, did you know we wouldn't even have the word "dessert" without France? It comes from the word desservir, and it wasn't long before people cottoned on to dessert being the best part of the meal!
So, if you can find the names of the French desserts in this online puzzle, you can make it a new printable to do with your friends. Make sure that you serve up a rich Creme au Caramel while you do it, too, as it's one of the silkiest and most decadent desserts that suit any occasion. A new word search is absolutely an occasion that requires dessert!
The words move up and down, back and forth. Find the words on the list and make this word search a new conquest!
Free French Desserts Word Search
Online Game
Enjoy our free French Desserts Word Search puzzle online in real-time battle with your friend, or play a classic single-player game. There are easy, medium, and hard difficulty levels for new and advanced players.
In this game are hidden a French desserts. Try and find them all.
French Desserts Word Search
Printable Puzzles
Break out your pens or pencils and get your eyes ready. Free printable French Desserts word search is the perfect solo activity for a rainy day for both kids and adults. All the words are hidden vertically, horizontally, or diagonally—in both directions.
Puzzle Vocabulary Words
Below you can see all possible words that the topic French Desserts has.
Depends on difficulty level you select in the game amount of words hidden in the puzzle will be different.
In Easy game you have to find up to 5 words, medium game can have up to 15 words and hard puzzle can have up to 23 words.
Every time you start a new game - our word search generator will pick random words to build the puzzle.
Angel Cake
Bredele
Canele
Charlotte
Clafoutis
Cocoa Souffle
Creme Brulee
Crepes
Crescent Rolls
Croissant
Eclair
Financier
Fruit Tart
Galette
Lemon Tart
Macarons
Meringue
Mousse
Noisette Cups
Opera Cake
Orangettes
Palmiers
Pear Tart
Profiteroles
Puffs
Rhum Cakes
Truffles