All Word Search Puzzles
Food and Nutrition

Word Search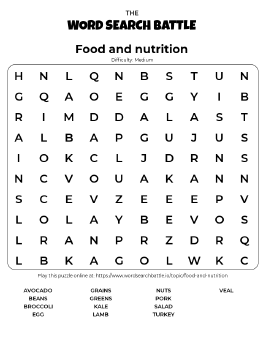 Whether you are looking for a word search for children or for adults, this food and nutrition word search is going to be the perfect topic for you. Are you passionate about cooking? How about a passion for healthy food options? There are never enough opportunities to discuss healthy food with the kids, either, and these are a great way to pass the time while you wait for your dinner to cook! Whether you want a diversion from the cake calling your name, or you want to indulge in your passion for food and cooking, this food and nutrition word search is the perfect distraction.
There's something fun about the challenge of locating all of the words in an online puzzle like this one, and this printable gives you an unlimited time frame to get your pencil sharpened and try to hunt down the food and nutrition items on this word search list. You already know that eating nutritious food is going to pave your way to a healthier life, and now you can get a little creative and focu on finishing a puzzle that concentrates on the healthier side of life. Food is an amazing addition to your day to day life already and perhaps you'll get a few ideas for your next meal plan on these words!
This word search becomes more of a challenge when you add a timer and a friend to race against the clock - why not try it out today and see if you have fun with it?
Free Food and Nutrition Word Search
Online Game
Enjoy our free Food and Nutrition Word Search puzzle online in real-time battle with your friend, or play a classic single-player game. There are easy, medium, and hard difficulty levels for new and advanced players.
These words are the main nutrients in food , the foods from different food groups and some dietary terms
Food and Nutrition Word Search
Printable Puzzles
Break out your pens or pencils and get your eyes ready. Free printable Food and Nutrition word search is the perfect solo activity for a rainy day for both kids and adults. All the words are hidden vertically, horizontally, or diagonally—in both directions.
Puzzle Vocabulary Words
Below you can see all possible words that the topic Food and Nutrition has.
Depends on difficulty level you select in the game amount of words hidden in the puzzle will be different.
In Easy game you have to find up to 5 words, medium game can have up to 15 words and hard puzzle can have up to 23 words.
Every time you start a new game - our word search generator will pick random words to build the puzzle.
Asparagus
Avocado
Beans
Beef
Broccoli
Cabbage
Cauliflower
Egg
Fish
Grains
Greens
Kale
Lamb
Nuts
Oatmeal
Peas
Pork
Romaine
Salad
Spinach
Tomato
Turkey
Veal
Yogurt