All Word Search Puzzles
Flowers

Word Search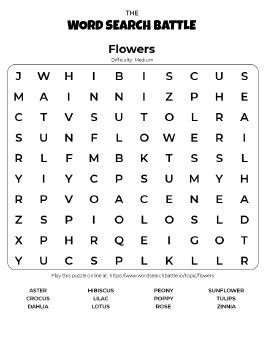 Don't you just love the beautiful sight of flowers blooming throughout the year? Every single gardener loves planting Spring flowers and Summer pops of color. Hidden throughout this word search are some of the prettiest types of flowers out there and you will likely recognize some of your favorites, too!
From roses and tulips to sunflowers and chrysanthemums, flowers are perfect for every single occasion and you will always find a type of flower that will match what you want. Making your garden pretty, lush and splashed with color is part of the fun of growing your own flowers. With this printable, you can rediscover some types of flowers that you haven't thought of for a while and remember the ones that you love the most, too!
This flower word search is fun for both children and adults alike, and if you're a nature lover, it's all the more fun. This flower word search is a fun way to practice the names of the different types of flower out there and learn what types of flowers there are beyond the ones that you already know. Take the time to complete this and look for words in all directions - you never know where you might find flowers buried in the letters!
Finding the flowers in this online puzzle shouldn't take you too long if you have a keen eye for nature. Set yourself a timer and try to beat it since the last time you set it!
Free Flowers Word Search
Online Game
Enjoy our free Flowers Word Search puzzle online in real-time battle with your friend, or play a classic single-player game. There are easy, medium, and hard difficulty levels for new and advanced players.
Find all of the words hidden in the letter grid which relate to various types of flowers.
Flowers Word Search
Printable Puzzles
Break out your pens or pencils and get your eyes ready. Free printable Flowers word search is the perfect solo activity for a rainy day for both kids and adults. All the words are hidden vertically, horizontally, or diagonally—in both directions.
Puzzle Vocabulary Words
Below you can see all possible words that the topic Flowers has.
Depends on difficulty level you select in the game amount of words hidden in the puzzle will be different.
In Easy game you have to find up to 5 words, medium game can have up to 15 words and hard puzzle can have up to 23 words.
Every time you start a new game - our word search generator will pick random words to build the puzzle.
Aster
Calendula
Carnations
Clematis
Crocus
Daffodil
Dahlia
Daisy
Hibiscus
Hyacinth
Iris
Jasmine
Lavender
Lilac
Lilly
Lotus
Magnolia
Orchid
Peony
Petunia
Poppy
Rose
Sunflower
Tulips
Zinnia