All Word Search Puzzles
Fall

Word Search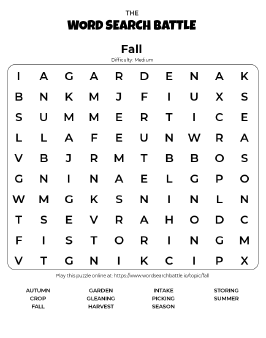 This Fall Word Search has been carefully designed to reflect the season it represents, with an array of words that will set the scene for this time of year. Fall is a time for harvest, shorter days, and rapid change, making it a rich topic to dive into. Get into the mood for Autumn with this unique and family-friendly Word Search.
Our smart Word Search system has been designed to offer ease and flexibility. You can choose from three difficulty levels for each puzzle, adding and removing words to make each game more interesting. Alongside this, you can also pick an avatar, unique name, and anything from a huge range of different topics. This is all handled through our incredibly simple Word Search system, making it easy to push your mind and test your wits.
Multiplayer and singleplayer modes available
Three difficulty levels to choose from
Countless topics to challenge your mind
Great for kids and adults
Inspired by Fall
Free Fall Word Search
Online Game
Enjoy our free Fall Word Search puzzle online in real-time battle with your friend, or play a classic single-player game. There are easy, medium, and hard difficulty levels for new and advanced players.
Usher in a new season with this Fall Word Search. With words inspired by Autumn, there's no better game to get you in the mood for this beautiful time of year.
Fall Word Search
Printable Puzzles
Break out your pens or pencils and get your eyes ready. Free printable Fall word search is the perfect solo activity for a rainy day for both kids and adults. All the words are hidden vertically, horizontally, or diagonally—in both directions.
Puzzle Vocabulary Words
Below you can see all possible words that the topic Fall has.
Depends on difficulty level you select in the game amount of words hidden in the puzzle will be different.
In Easy game you have to find up to 5 words, medium game can have up to 15 words and hard puzzle can have up to 23 words.
Every time you start a new game - our word search generator will pick random words to build the puzzle.
Accumulation
Autumn
Collecting
Crop
Culling
Equinox
Fall
Fruitage
Garden
Garnering
Gleaning
Harvest
Home
Ingathering
Intake
Picking
Pumpkin
Reaping
Repercussion
Season
Storing
Summer
Yielding