All Word Search Puzzles
Easter

Word Search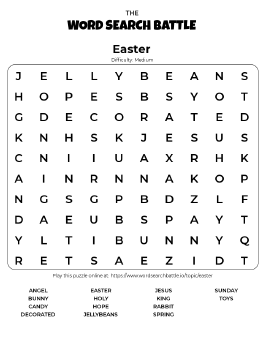 Celebrate the festivities and significance of the biggest springtime holiday of them all with an Eater Word Search from Word Search Battle. A word search puzzle can be the perfect challenge to add some fun and challenge to the celebrations, and with three difficulties, we can help you find just the right level of challenge.
In the easy game, you have to find up to 5 words, in the medium game, you have to find up to 15 words, and in the hard game, you have to find up to 23. The words that you have to find, which can include things like angel, hope, spring, rabbit, eggs, and more will change every time you play the puzzle.
This word search includes words that are related to the popular celebrations of Easter, the feast day itself, as well as the spiritual significance of the day.
Play online or download and print
Multiple difficulties to test your skills
Up to 23 words all related to the holiday of Easter
Challenge friends online or play alone
Create your own avatar and username to track your best scores
Free Easter Word Search
Online Game
Enjoy our free Easter Word Search puzzle online in real-time battle with your friend, or play a classic single-player game. There are easy, medium, and hard difficulty levels for new and advanced players.
Hop to the challenge and find all manner of Easter-related words with an Easter Word Search puzzle that can be played in multiple difficulties.
Easter Word Search
Printable Puzzles
Break out your pens or pencils and get your eyes ready. Free printable Easter word search is the perfect solo activity for a rainy day for both kids and adults. All the words are hidden vertically, horizontally, or diagonally—in both directions.
Puzzle Vocabulary Words
Below you can see all possible words that the topic Easter has.
Depends on difficulty level you select in the game amount of words hidden in the puzzle will be different.
In Easy game you have to find up to 5 words, medium game can have up to 15 words and hard puzzle can have up to 23 words.
Every time you start a new game - our word search generator will pick random words to build the puzzle.
Angel
Basket
Bunny
Candy
Colorful
Decorated
Easter
Eggs
Empty Tomb
Folklore
Holiday
Holy
Hope
Hunt
Jelly Beans
Jesus
King
Marshmallow
Peeps
Rabbit
Spring
Sunday
Toys
Treats