All Word Search Puzzles
Dog Breeds

Word Search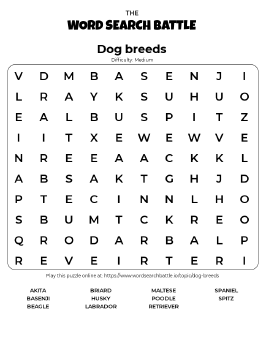 Fond of your four-legged friends? Then let's see how easily you can identify all manner of breeds, from collie to spaniel, in this Dog Breeds Word Search. There's no shortage of challenge or canine companions to be found in this ever-randomizing puzzle that offers a new brain scratcher every time you play it.
Play online or download and print
Multiple difficulties to test your skills
Find up to 23 dog breeds of all shapes and sizes
Free Dog Breeds Word Search
Online Game
Enjoy our free Dog Breeds Word Search puzzle online in real-time battle with your friend, or play a classic single-player game. There are easy, medium, and hard difficulty levels for new and advanced players.
Show some love for your canine companions and see how easily you can find them all in this Dog Breeds Word Search with up to 23 words to find.
Dog Breeds Word Search
Printable Puzzles
Break out your pens or pencils and get your eyes ready. Free printable Dog Breeds word search is the perfect solo activity for a rainy day for both kids and adults. All the words are hidden vertically, horizontally, or diagonally—in both directions.
Puzzle Vocabulary Words
Below you can see all possible words that the topic Dog Breeds has.
Depends on difficulty level you select in the game amount of words hidden in the puzzle will be different.
In Easy game you have to find up to 5 words, medium game can have up to 15 words and hard puzzle can have up to 23 words.
Every time you start a new game - our word search generator will pick random words to build the puzzle.
Affenpinscher
Akita
Barbet
Basenji
Beagle
Bichon Frise
Boerboel
Briard
Brittany
Broholmer
Bulldog
Chihuahua
Collie
Dachshund
Greyhound
Husky
Labrador
Maltese
Pomeranian
Poodle
Retriever
Shih Tzu
Spaniel
Spitz