All Word Search Puzzles
Distance Learning

Word Search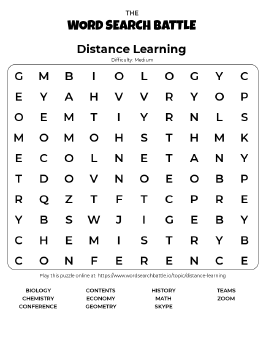 Test your skills or give your students a new way to test their minds with a Distance Learning Word Search that sees you delving into the world of remote academics. Find all manner of subjects, learning topics, and terms related to the realities of online learning with this puzzle from The Word Search Battle.
Play online or download and print
Multiple difficulties to test your skills
Find up to 23 words all related to remote learning activities
Free Distance Learning Word Search
Online Game
Enjoy our free Distance Learning Word Search puzzle online in real-time battle with your friend, or play a classic single-player game. There are easy, medium, and hard difficulty levels for new and advanced players.
Sharpen that academic mind of yours with a Distance Learning Word Search puzzle that sees you finding all manner of words with three playable difficulties.
Distance Learning Word Search
Printable Puzzles
Break out your pens or pencils and get your eyes ready. Free printable Distance Learning word search is the perfect solo activity for a rainy day for both kids and adults. All the words are hidden vertically, horizontally, or diagonally—in both directions.
Puzzle Vocabulary Words
Below you can see all possible words that the topic Distance Learning has.
Depends on difficulty level you select in the game amount of words hidden in the puzzle will be different.
In Easy game you have to find up to 5 words, medium game can have up to 15 words and hard puzzle can have up to 23 words.
Every time you start a new game - our word search generator will pick random words to build the puzzle.
Algebra
Archeology
Astronomy
Biology
Chemistry
Conference
Contents
Economy
English
Geography
Geometry
Hematology
History
Internet
Math
Meeting
Philosophy
Physics
Psychology
Skype
Teams
Technologies
Zoom