All Word Search Puzzles
Disney

Word Search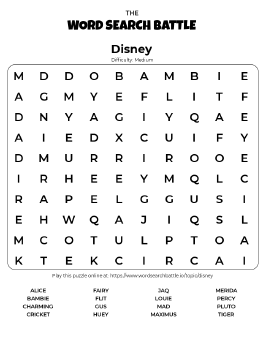 If you consider yourself a real fan of the most widely known cartoon movie franchise, then this Disney Word Search is really going to put you to the test. Featuring characters from all throughout the studio's history, from Bambie to Peter Pan to Tangled, this puzzle from Word Search Battle is a must-play for those who think they know all things Disney.
Players select from three difficulties. In the Easy mode, you have to find up to five words amongst the jumble. Meanwhile, in Medium, you have to find up to 15 and in Hard, you have to find up to 23. Each time you start a new game, the puzzle will be completely randomized, meaning that there's always a fresh challenge, suited for players of different ages.
Play the Disney Word Search and see if you're able to recognize characters from all across the Disney canon.
Play online or download and print
Multiple difficulties to test your skills
Up to 23 words all related Disney movies and characters
Challenge friends online or play alone
Create your own avatar and username to track your best scores
Free Disney Word Search
Online Game
Enjoy our free Disney Word Search puzzle online in real-time battle with your friend, or play a classic single-player game. There are easy, medium, and hard difficulty levels for new and advanced players.
Celebrate one of the most beloved franchises and movie families of all time with a Disney Word Search that tests your knowledge of a wide variety of characters.
Disney Word Search
Printable Puzzles
Break out your pens or pencils and get your eyes ready. Free printable Disney word search is the perfect solo activity for a rainy day for both kids and adults. All the words are hidden vertically, horizontally, or diagonally—in both directions.
Puzzle Vocabulary Words
Below you can see all possible words that the topic Disney has.
Depends on difficulty level you select in the game amount of words hidden in the puzzle will be different.
In Easy game you have to find up to 5 words, medium game can have up to 15 words and hard puzzle can have up to 23 words.
Every time you start a new game - our word search generator will pick random words to build the puzzle.
Alice
Baloo
Bambie
Charming
Cheshire Cat
Cinderella
Cricket
Daisy Duck
Dewey
Donald Duck
Fairy
Flit
Flower
Gepetto
Godmother
Goofy
Governor
Gus
Hatter
Huey
Jaq
Jiminy
Lily
Louie
Mad
Maleficent
Maximus
McDuck
Merida
Mickey
Minnie
Mowgli
Pascal
Percy
Peter Pan
Pinocchio
Pluto
Pocahontas
Prince
Queen
Rapunzel
Ratcliffe
Scrooge
Thumper
Tiger
Tinkerbell