All Word Search Puzzles
Dinosaur

Word Search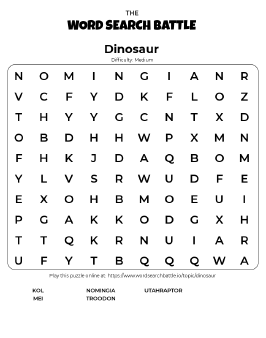 Free Dinosaur Word Search
Online Game
Enjoy our free Dinosaur Word Search puzzle online in real-time battle with your friend, or play a classic single-player game. There are easy, medium, and hard difficulty levels for new and advanced players.
Word search puzzles are always fun. Check out this dinosaur word search puzzle with the names of thirty different dinosaurs.
Dinosaur Word Search
Printable Puzzles
Break out your pens or pencils and get your eyes ready. Free printable Dinosaur word search is the perfect solo activity for a rainy day for both kids and adults. All the words are hidden vertically, horizontally, or diagonally—in both directions.
Puzzle Vocabulary Words
Below you can see all possible words that the topic Dinosaur has.
Depends on difficulty level you select in the game amount of words hidden in the puzzle will be different.
In Easy game you have to find up to 5 words, medium game can have up to 15 words and hard puzzle can have up to 23 words.
Every time you start a new game - our word search generator will pick random words to build the puzzle.
Allosaurus
Ankylosaurus
Apatosaurus
Archaeopteryx
Brachiosaurus
Brontomerus
Compsognathus
Deinonychus
Dilophosaurus
Echinodon
Gigantoraptor
Hadrosaurus
Iguanodon
Isanosaurus
Jinfengopteryx
Kol
Liliensternus
Megalosaurus
Mei
Nomingia
Spinosaurus
Stegosaurus
Tianchisaurus
Triceratops
Troodon
Tsintaosaurus
Tyrannosaurus
Utahraptor
Velociraptor
Xenoceratops