All Word Search Puzzles
Desserts

Word Search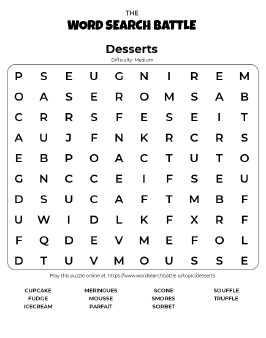 Your mouth will be watering and your brain will be ticking with this challenging Desserts Word Search from the Word Search Battle. Play alone or with friends, finding all matter of fudge, chocolate, and fruit treats from a combination of letters that changes every time you play it, keeping the challenge fresh and sweet.
Play online or download and print
Multiple difficulties to test your skills
Find up to 23 words based on a selection of delicious desserts
Free Desserts Word Search
Online Game
Enjoy our free Desserts Word Search puzzle online in real-time battle with your friend, or play a classic single-player game. There are easy, medium, and hard difficulty levels for new and advanced players.
Get indulgent with a delicious Desserts Word Search that sees just how well you can identify and find some of your favorite treats from the menu of letters.
Desserts Word Search
Printable Puzzles
Break out your pens or pencils and get your eyes ready. Free printable Desserts word search is the perfect solo activity for a rainy day for both kids and adults. All the words are hidden vertically, horizontally, or diagonally—in both directions.
Puzzle Vocabulary Words
Below you can see all possible words that the topic Desserts has.
Depends on difficulty level you select in the game amount of words hidden in the puzzle will be different.
In Easy game you have to find up to 5 words, medium game can have up to 15 words and hard puzzle can have up to 23 words.
Every time you start a new game - our word search generator will pick random words to build the puzzle.
Alfajor
Applepie
Bananabread
Bananasplit
Brownie
Cheesecake
Cherry Turnover
Cupcake
Doughnut
Fudge
Icecream
Lemon Bar
Macaroon
Marshmallow
Meringues
Mousse
Muffin
Napoleon
Nougat
Pannacotta
Parfait
Pavlova
Popsicle
Praline
Pudding
Scone
Smores
Sorbet
Souffle
Sponge Cake
Strawberry Cake
Tiramisu
Truffle