All Word Search Puzzles
Cookies

Word Search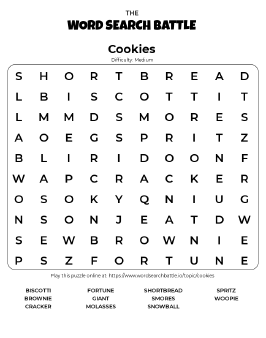 If you have a sweet tooth, why not indulge it with this Cookies Word Search from Word Search Battle? whether you're a French Macaroon fan or a maniac for Madlienes, your ability to recognize and pinpoint cookies of all kinds is going to be put to the test in this puzzle with three different difficulties.
Play online or download and print
Multiple difficulties to test your skills
Find up to 23 words named after some of the most beloved cookies around
Free Cookies Word Search
Online Game
Enjoy our free Cookies Word Search puzzle online in real-time battle with your friend, or play a classic single-player game. There are easy, medium, and hard difficulty levels for new and advanced players.
Find your favorites with a Cookies Word Search that hides all manner of sweet treats behind a mix of letters that randomizes every time you play it.
Cookies Word Search
Printable Puzzles
Break out your pens or pencils and get your eyes ready. Free printable Cookies word search is the perfect solo activity for a rainy day for both kids and adults. All the words are hidden vertically, horizontally, or diagonally—in both directions.
Puzzle Vocabulary Words
Below you can see all possible words that the topic Cookies has.
Depends on difficulty level you select in the game amount of words hidden in the puzzle will be different.
In Easy game you have to find up to 5 words, medium game can have up to 15 words and hard puzzle can have up to 23 words.
Every time you start a new game - our word search generator will pick random words to build the puzzle.
Biscotti
Brownie
Chocolate Chip
Cinnamon Roll
Cracker
Financiers
Fortune
French Macaroon
Giant
Gingerbread
Kitsilano
Madeleine
Molasses
Oatmeal
Oreo
Shortbread
Smores
Snickerdoodle
Snowball
Spritz
Stroopwafel
Thumbprint
Woopie