All Word Search Puzzles
Christmas

Word Search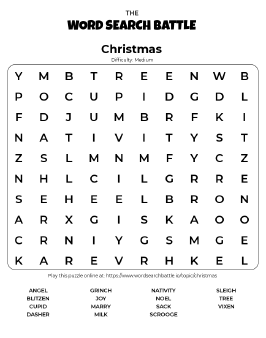 It's the most wonderful time of the year! So, why not get into the Christmas spirit by finding some of your festive favorites in our Christmas Word Search?
Santa Claus, Rudolph, elves, Scrooge and more are all waiting to be found. There are a number of difficulty levels available and the number of words to be found will be dependent on the level you select. So, there's festive fun to be had all round - no matter what your skill set or ability!
Free Christmas Word Search
Online Game
Enjoy our free Christmas Word Search puzzle online in real-time battle with your friend, or play a classic single-player game. There are easy, medium, and hard difficulty levels for new and advanced players.
It's the most wonderful time of the year! Can you find Santa Claus, elves, Rudolph and more in our Christmas Word Search?
Christmas Word Search
Printable Puzzles
Break out your pens or pencils and get your eyes ready. Free printable Christmas word search is the perfect solo activity for a rainy day for both kids and adults. All the words are hidden vertically, horizontally, or diagonally—in both directions.
Puzzle Vocabulary Words
Below you can see all possible words that the topic Christmas has.
Depends on difficulty level you select in the game amount of words hidden in the puzzle will be different.
In Easy game you have to find up to 5 words, medium game can have up to 15 words and hard puzzle can have up to 23 words.
Every time you start a new game - our word search generator will pick random words to build the puzzle.
Angel
Belly
Blitzen
Candy Canes
Chimney
Christmas
Cookies
Crackers
Cupid
Dancer
Dasher
Decorations
Donner
Elves
Family
Friends
Frosty
Gifts
Grinch
Jack Frost
Jolly
Joy
Manger
Marry
Milk
Nativity
Noel
Pranger
Presents
Reindeer
Rudolph
Sack
Santa Claus
Scrooge
Sleigh
Tree
Vixen