All Word Search Puzzles
Cheese

Word Search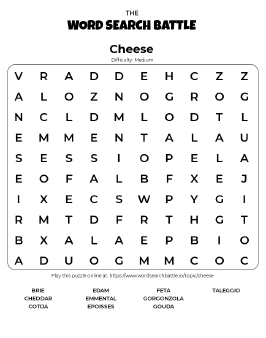 This cheese word search online puzzle is a fun way to learn more about the different types of this popular food. Whether you love the full fat dairy kind, or the vegan kind, cheese is popular for many people. There are so many different varieties of cheese out there in the world and none of them taste the same! Whether you are a fan of cheese, chutney and crackers, or you love cheesecakes, cheese can be used for different recipes and different tastes. If you fancy crumbling some feta over your salad or you love the drizzly queso cheese you can pour over your nachos, you'll be in full cheese mode once you complete this online puzzle.
Whether you are a cheese fiend or not, you can learn the differences between the Pecorino and the Parmesan once you complete this word search. Cheese types are hidden in the letters, moving up and down and diagonally across the grid. Find the words and introduce yourself to a world of cheese you may not have known much about. Every single cheese out there has its own personality due to the way in which it's made, and knowing the types of cheese out there will help you to learn new cheese options and hone your tastes.
There is a huge range of cheeses found all over the world - but can you find all of them hidden in this word search? Don't wait - search now - and see whether you can find your favorites hidden here today!
Free Cheese Word Search
Online Game
Enjoy our free Cheese Word Search puzzle online in real-time battle with your friend, or play a classic single-player game. There are easy, medium, and hard difficulty levels for new and advanced players.
Find all of the words hidden in the letter grid which relate to various types of Cheese in this Word Search.
Cheese Word Search
Printable Puzzles
Break out your pens or pencils and get your eyes ready. Free printable Cheese word search is the perfect solo activity for a rainy day for both kids and adults. All the words are hidden vertically, horizontally, or diagonally—in both directions.
Puzzle Vocabulary Words
Below you can see all possible words that the topic Cheese has.
Depends on difficulty level you select in the game amount of words hidden in the puzzle will be different.
In Easy game you have to find up to 5 words, medium game can have up to 15 words and hard puzzle can have up to 23 words.
Every time you start a new game - our word search generator will pick random words to build the puzzle.
Brie
Burrata
Camembert
Cheddar
Cotija
Cream Cheese
Edam
Emmental
Epoisses
Feta
Gorgonzola
Gouda
Gruyere
Halloumi
Jarlsberg
Manchego
Mascarpone
Mozzarella
Paneer
Provolone
Reblochon
Romano
Roquefort
Scamorza
Stilton
Taleggio