All Word Search Puzzles
Car Brands

Word Search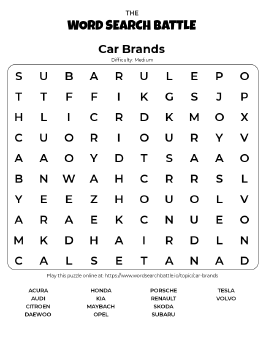 Do you love cars? Are you enamored by car brands or besotted by brand logos? Whether you live your life as a driver of quality cars or a lover of all things car brands, this is the word search for you. Vehicles are a huge part of modern life as we know it, and you can't go anywhere without seeing several brands of car everywhere you go. Some of the car brands on the list of this word search will be ones that you recognize, but others may be new to you. Every single day, you may use a vehicle of some kind to get where you need to be, and car aficionados out there will know their way around some of the most popular car brands listed. Maybe this car brand's word search will teach you a thing or two about the variety of brands on the market!
If you love to think about cars, dream about cars and eye up the cars in the lot for sale, then you'll love finding all of your favorites in this word search. You can keep yourself busy by reading through this online puzzle and making this printable word search your priority for the evening.
You'll find car brands hidden in the word search - well, that's the goal! This is your chance to test your knowledge, and you can flip a timer to see whether you can beat your score for previous word searches. Use this online puzzle and see whether you can find all the car brands hidden.
Free Car Brands Word Search
Online Game
Enjoy our free Car Brands Word Search puzzle online in real-time battle with your friend, or play a classic single-player game. There are easy, medium, and hard difficulty levels for new and advanced players.
Find the most popular car brands in this word search grid.
Car Brands Word Search
Printable Puzzles
Break out your pens or pencils and get your eyes ready. Free printable Car Brands word search is the perfect solo activity for a rainy day for both kids and adults. All the words are hidden vertically, horizontally, or diagonally—in both directions.
Puzzle Vocabulary Words
Below you can see all possible words that the topic Car Brands has.
Depends on difficulty level you select in the game amount of words hidden in the puzzle will be different.
In Easy game you have to find up to 5 words, medium game can have up to 15 words and hard puzzle can have up to 23 words.
Every time you start a new game - our word search generator will pick random words to build the puzzle.
Acura
Audi
Bentley
Bmw
Bugatti
Buick
Cadillac
Chevrolet
Chrusler
Citroen
Daewoo
Ferrary
Fiat
Ford
Gmc
Honda
Hummer
Hyundai
Infiniti
Jaguar
Jeep
Kia
Lada
Lamborghini
Land Rover
Lexus
Lincoln
Maybach
Mazda
Mercedes
Mitsubishi
Nissan
Opel
Peugeot
Porsche
Renault
Skoda
Smart
Subaru
Suzuki
Tesla
Toyota
Volkswagen
Volvo