All Word Search Puzzles
Candy

Word Search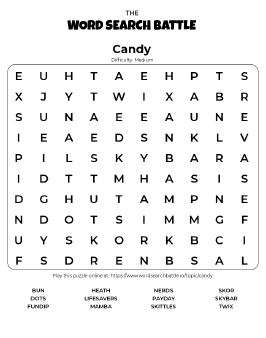 Candy - or sweets, depending on where you're from - is long known to be a delicious snack option for those with a sweet tooth! Candy comes in many different shapes, sizes and textures, and whether you love the hard and brittle kind or the soft and chewy kind, everyone loves something in the candy family.
Do you love sweet or sour? What about a mix of both? The type of candy you get all depends on the ingredients used, the concentration of sugar, the temperature the candy was made at - even the color of the candy can change the taste. Candy is palatable and tasty because of the high sugar concentration, and whether your favorite candy comes in the form of a lollipop or super sour chews, there's always going to be something that makes your mouth water.
Did you know that candy dates way back to the Egyptians? That's a long history of deliciously sweet and chewy snacks that you can find in any supermarket or corner store. It's changed over the years, of course, but candy is just as nice as it ever has been. From liquorice to gumdrops, candy isn't going anywhere anytime soon - we all love it too much!
With this online puzzle, you can find some of the most common types of candy hidden in the letters. Once you find them, circle the word and move to the next one. This word search is also printable, so sharing with your friends is bound to be fun! Make it a challenge by timing yourself!
Free Candy Word Search
Online Game
Enjoy our free Candy Word Search puzzle online in real-time battle with your friend, or play a classic single-player game. There are easy, medium, and hard difficulty levels for new and advanced players.
Word search with hidden words related to candy and other confectionary.
Candy Word Search
Printable Puzzles
Break out your pens or pencils and get your eyes ready. Free printable Candy word search is the perfect solo activity for a rainy day for both kids and adults. All the words are hidden vertically, horizontally, or diagonally—in both directions.
Puzzle Vocabulary Words
Below you can see all possible words that the topic Candy has.
Depends on difficulty level you select in the game amount of words hidden in the puzzle will be different.
In Easy game you have to find up to 5 words, medium game can have up to 15 words and hard puzzle can have up to 23 words.
Every time you start a new game - our word search generator will pick random words to build the puzzle.
Almond Joy
Bun
Butterfinger
Dots
Fun Dip
Gobstopper
Goobers
Heath
Jawbreakers
Jujyfruits
Kit Kat
Lemonhead
Lifesavers
Mamba
Mounds
Nerds
Payday
Raisinets
Razzles
Riesen
Ring Pop
Rolo
Skittles
Skor
Skybar
Smarties
Snickers
Spree
Starburst
Sweet Tarts
Toblerone
Twix
Twizzlers
Valomilk
Warheads
Whoppers
Wunderbar